On the Rise?
Harrison Barnes, Dallas Mavericks
The Mavs aren't paying Barnes, a fixture of Golden State Warriors' lineup of death, $94 million to sit on the bench. That as much is true. Whether Barnes can actually be efficient and produce elite numbers across the board remains to be seen but as long as he has playing time, he has a chance to do so.
Barnes' per-36 minutes are somewhat pedestrian, only 13 points, 6 rebounds, 2 assists and a steal for his career. However, that could be mainly seen as a product of playing with three All-Stars than a testament of his playing skills. If involved in the very thick of things, Barnes has a chance to move up a tier when all is said and done.
Chandler Parsons, Memphis Grizzlies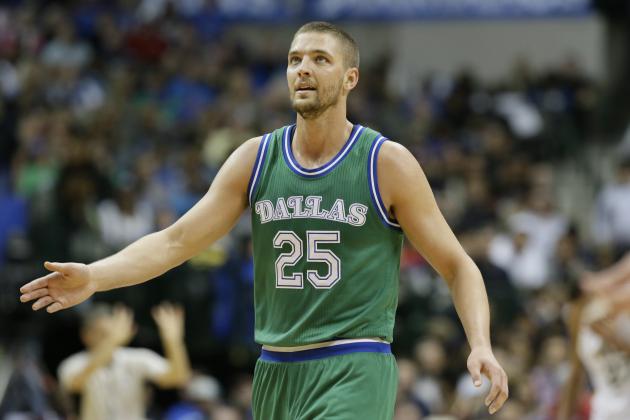 The Grizz has been experimenting with a number of small forwards, from Rudy Gay to Jeff Green to Matt Barnes. Hopefully, they have found their wing of the future with Parsons.
To get a good look of how good Parsons can be, last season's 14 games after the All-Star break can be used as a benchmark. During that stretch, Parsons averaged 17.6 points, 5.6 rebounds, 4.1 assists, 1.3 steals and on extremely good percentages (44.7% threes, over 80% FT). The former Florida Gator has historically been a very good shooter but should increase FTA and blocks to attain elite status. Even then, he's still a very productive player at the 3 spot.
Danilo Gallinari, Denver Nuggets
We've been saying something about Gallinari's "rise" for many years now so let us put the sweet-shooting Italian here one last time. Averaging 19.5 points, 5.3 rebounds, 2.5 assists, 1.2 combined steals and blocks and 1.6 3PM a game during the 2015-16 season, Gallinari is one of the better choices you can have at the 3-spot. The knock here is that the guy was available in only 53 games and his FG% left much to be desired (41%). But then again, Gallo hasn't shot at least 45% since his rookie year so owners should take the good along with the bad in his case.
In my opinion, he is definitely worth a shot if all the elites have been drafted by virtue of his elite FT and shooting and FTA attempts (8.2 FTA on 86.8%). The sheer amount alone is better than Kevin Durant, Carmelo Anthony, LeBron James and basically any other player other not named James Harden, DeMarcus Cousins, and DeMar Derozan.
Sleepers
Rondae Hollis-Jefferson, Brooklyn Nets
RHJ's rookie season was cut short with injuries but has nonetheless shown flashes of defensive potential that warrants him a spot on any fantasy roster. Hollis-Jefferson may just be a defensive specialist at this point (2.3 steals and 9.0 rebounds per 36 minutes) but once the rest of his game catches up, he will be a force to be reckoned with. At Brooklyn, he will be afforded that luxury.
Michael Kidd-Gilchrist, Charlotte Hornets
MKG was also a defensive specialist in his first few years but the small sample size in 2015-16 (played only 7 games) tells us he can be an offensive asset going forward. Kidd-Gilchrist hit 3 of 7 three-pointers (I said 'small', remember?), made 54% of his total field goals while showing the above-average rebounding skills that defined his game (6.4 rebs). If he plays his usual 30 minutes a night, we'll be all good.
Wait and See
Tyreke Evans, New Orleans Pelicans A perfect draft-and-stash candidate, Evans could potentially reward you in the second half run with elite numbers across the board. "Potential" is the key word here as Evans may not join the Pelicans (or any team if he's traded) at the start of the season. The former Rookie of the Year is still rehabbing his knee and has underwent three operations in a span of nine months. If your league has a place for injured players, you shouldn't hesitate to plug Evans in and wait until he is healthy enough to contribute.
DeMarre Carroll, Toronto Raptors
Carroll has played less than half the 82 games last season because of injuries and that may be the explanation of the drop in efficiency. Carroll's FG shooting went from .487 to .389, FT shooting from .702 to .600, and eFG shooting from .579 to .474 although there is a slight increase in 3PM and steals.
It's hard to project how Carroll will do in his second season in a Raptors uniform but he history suggests he'll be fine although it's advisable to take the next step with him in caution.
Featured Image: (AP Photo/LM Otero)