The Los Angeles Lakers have been the Fakers the past few seasons, missing out on a number of big-name free agents and trying to make the best out of the last years of Kobe Bryant. We knew how that turned out.
Quietly, though, the Lakers have built a nice young core, not to mention hire one of the brightest young coaches in the game in Luke Walton. Bryant has since retired which means player development will be on full swing and with Walton at the helm, the Purple and Gold figures to be one of the most fantasy-friendly teams in the 2016-17 season.
Even if it doesn't immediately translate to something in the "win" column, the future is bright once again for the Lakers.
Already Worthy Of A Spot?
If you're a Lakers fan, you'd be lying if you say you're not excited to see how Brandon Ingram fares in the NBA. After all, the Duke Blue Devil drew comparisons to Kevin Durant which is either good or bad depending how you look at it. It's good because, well, that means you have the versatility to be effective in different areas of the floor and bad because, we know how Durant's slight frame was a disadvantage during his younger years.
Even then, if his college numbers are any indication, Ingram has the potential to be worthy of a roster spot beginning Day 1. Ingram averaged 17.3 points, 6.7 rebounds and 2.0 assists per game, while adding 2.5 combined blocks and steals and 134 3-pointers in 36 games as a freshman. D'Angelo Russell may shoulder most of the ballhandling and decision-making duties, but Ingram has the chops to lead the Lakers in scoring at some point this season.
The only perceived "roadblock" on Ingram's way is Luol Deng, who could start ahead of the rookie and is a legit threat to his minutes. Say what you want about Deng's role in the Lakers locker room, but you don't pay a guy $18 million to sit on the bench. That alone could be problematic for Ingram from a fantasy perspective unless…
Julius Randle Turns Out To Be A Bust?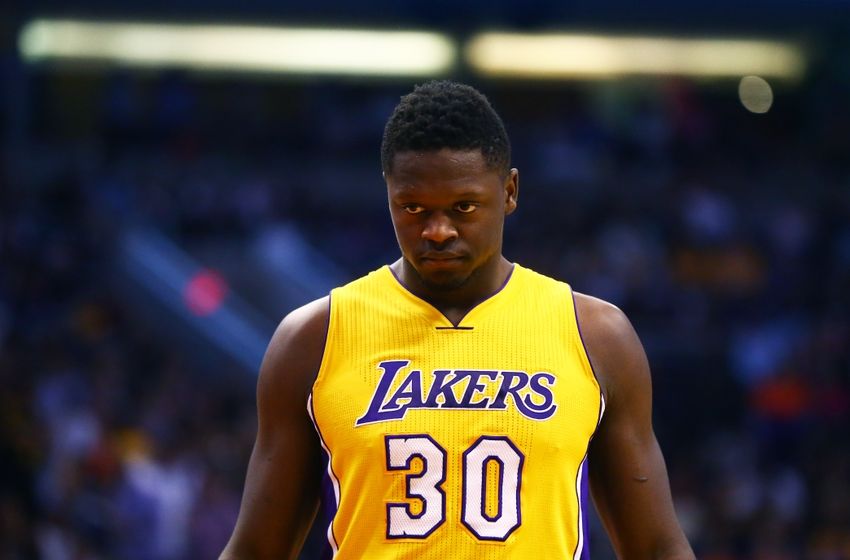 A 21-year-old averaging a double-double in his first full NBA season should have SUPERSTAR written all over him but that's not the case with Randle. The Kentucky product has obvious strengths but also has some glaring weaknesses in his game, namely shooting (shot less than 30% outside 10 feet last season) and a penchant to try to do too much. Randle ranked 16th in the league in TO ratio among forwards who played at least 50 games last season ahead of Kevin Durant, Paul Millsap, and LeBron James, who in comparison plays more minutes and often has the ball in their hands.
Unlike last season, however, Randle couldn't afford to turn the ball over too much with quite a number of capable players ready to replace him anytime. Larry Nance, Jr. has been a revelation in the Summer League, Deng as a stretch-4 practically saved the Heat's 2015-16 season, Ingram could play some four depending on match-ups, while Yi Jianlian, Tarik Black, or Ivica Zubac could all swoop up minutes. Bottom line: This season is the make-or-break type for Randle, who has to show drastic improvements in former areas of weakness in order to keep his minutes in the high-20's to the low 30's.
Sleeper
Yi Jianlian
I'm internally debating whether it's Ivica Zubac or Larry Nance, Jr. but Yi's signing is the kind of low risk, high-reward acquisition that may just pan out for several reasons. One, Yi is going to be playing on a system that actually utilizes his skills and two, he has the experience edge over Zubac and Nance. Either way, after four years playing in his home country, Yi finds himself in a perfect position to prove he isn't a bust as some purported him to be after being picked 6th overall in 2007.
Photo via: mikesmind.sportsblog.com