Yours truly skipped Dec. 16th for personal reasons although I still did play two DFS lineups over at Yahoo. I had Ish Smith and DeJounte Murray although I would not call them "bargains" per se since their salary has gone slightly up. Since taking over for Isaiah Thomas, Smith has gone from $10 to $18 in a span of three games while Murray went from $20 to $21 after a monster line at Phoenix. He has been hovering at $18 for a while before registering 18-7-5 plus three "stocks" in that Phoenix win.
That said, my obvious bargain picks where Jalen Brunson (primary beneficiary of Luka Doncic's injury), Duncan Robinson (no other choice since I am adamant to include James Harden in any of my lineups), and Bruce Brown.
Brown has been the surprise pick but I felt I have to tap his services since the 16-10-6 plus 4-steal performance at Houston. Although Detroit lost, BB had a season-high 20 points, six rebounds, three assists, and three "stocks".
Brunson wasn't so bad either in combining with Kristaps Porzingis, registering a double-double (13 points, 11 dimes, plus four boards and a steal). Robinson kind of fizzled (12 points, three bounds) but it's better than nothing.
Since I have been hitting more than I've been missing lately, here are another batch of bargain options for Dec. 17th you may want to consider:
1.) Josh Hart, SG/SF, New Orleans Pelicans
Yahoo: $15; DraftKings: $4,700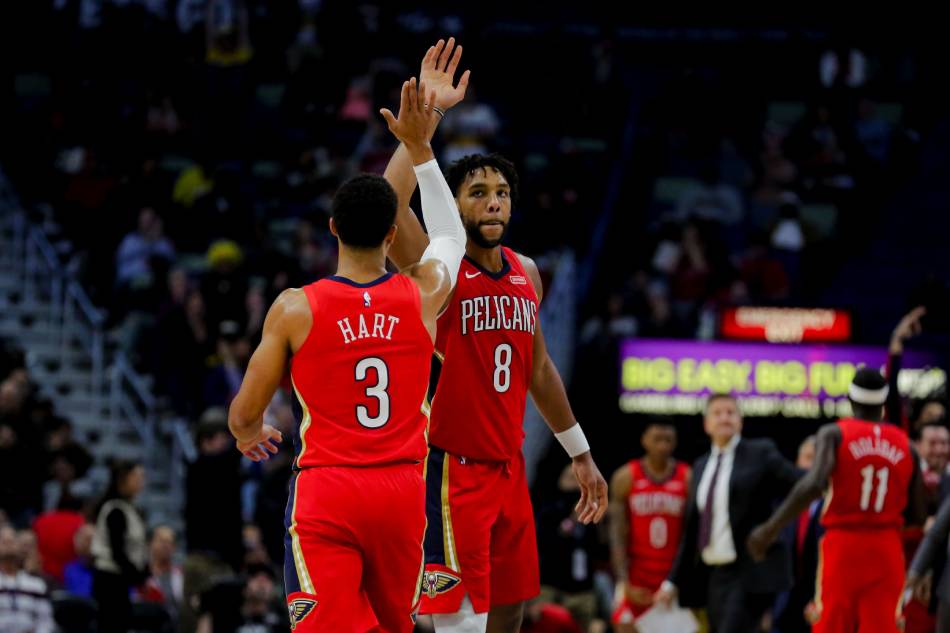 It took a while but Hart has hit 24 FP in three of the last four capped by a 20-point, five-rebound showing versus Orlando. Derrick Favors is back but Alvin Gentry has shown he's not afraid to strut small-ball lineups and Hart has hit 30 minutes in the same span as a power forward off the bench.
JJ Redick is also out of service for the upcoming game so the opportunities abound whatever position he plays.
2.) Miles Bridges, SF/PF, Charlotte Hornets
Yahoo: $16; DraftKings: $5,800
Bridges will take on a more significant role with PJ Washington sidelined for a few games. Although he fizzled in the loss to Indiana, that may be due to the blowout nature of the game. Before the Pacers game, the high-flying forward has hit at least 25 FP in four consecutive games.
3.) Alex Len, C, Atlanta Hawks
Yahoo: $13; DraftKings: $4,600
The subtle decline the the Lakers game is to be expected but against a pretty loose interior defense of the Knicks, I expect Len to continue his string of good games off the bench.
If you're hesitant to pull the trigger on Len, look at Cody Zeller who almost hit 40 FP the last time versus Indiana.
4.) Bogdan Bogdanovic, SG/SF, Sacramento Kings
Yahoo: $17; DraftKings: $5,300
Another of my best calls for Dec. 15, Bogdanovic had himself a night (25-5-5 on 9-for-11 shooting). That's the first time he has hit 30 FP since Nov. 27th. Let's see if he can keep it rolling.
5.) Frank Ntilikina, PG, NY Knicks
Yahoo: $11; DraftKings: $3,600
Ntilikina and Elfrid Payton played so well against Denver and although I believe EP is the better choice in the long run, don't tell me you're not curious if the Frenchman can follow up on his 13-5-4-4 performance.
That said, Frank has not hit at least 22 FP since Nov. 29 so that may be blip on the radar more than anything.
Featured Image:
(Jerome Miron)