1.) Dario Saric, PF, Phoenix Suns
Saric is a little up-and-down for the Suns but they will draw the Croatian's former team, the Sixers, at home.
I don't know if there's any scientific study out there but these NBA players do hold grudges against their former teams. I won't be surprised if Saric will be a little more motiviated for tomorrow's tiff.
2.) Any of the Sixer trio
Joel Embiid is serving the second of a two-game suspension which means Tobias Harris, Al Horford, and Ben Simmons all have a chance to boost their stats.
Versus Portland, this what the trio's stats look like: a.) Harris a solid 23-7-3 with a steal and two blocks.
b.) Horford a 25-5-7 line with a steal and two blocks, and
c.) Simmons flirted with a triple double (18-11-8) plus registering two steals.
The Sixer triumvirate may be a little pricey if you roster them all but that is for you to decide.
3.) Gorgui Dieng/Aron Baynes
Baynes has been on fire lately and his minutes are pretty safe without DeAndre Ayton. However, if Gorgui Dieng duplicates his performance at Washington (18 points, eight rebounds, one assist, two steals, and three blocks), he'll be an absolute steal.
Again, Dieng is more of the what-if while Baynes has already proven he can be counted on. Minnesota will probably be outmatched against Milwaukee without Karl-Anthony Towns while it is highly probably that the surprising Suns will go toe-to-toe with the Embiid-less Sixers.
That said, I'm leaning with Baynes on this one but tapping Dieng's services also makes sense.
4.) Brandon Ingram, SG, New Orleans Pelicans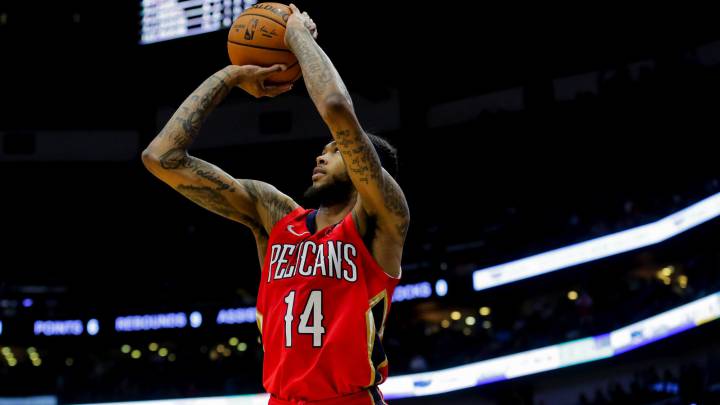 Slenderman is turning out to be a monster and with him little action because of injury the last time out, I have a feeling he will unleash something nasty on Brooklyn.
5.) Ky Bowman/Eric Paschall/GRIII
Ky Bowman had 16-7-4-2 on 38 minutes as he started for D'Angelo Russell while Eric Paschall had 25-4-2 as the Warriors' starting PF. As you manipulate your roster, think about this two, along with Glenn Robinson III, who had 16-9-3-2 the last time out.
Featured Image: Charles Fox, Philadelphia Inquirer