It's never a good idea to just sit and wait in fantasy basketball. If there's a chance to improve at a certain position or category, pulling the trade trigger is usually a good thing. Here are 5 trade targets you can probably pry away from an impatient, or at least, an uninformed owner.
1. Serge Ibaka, PF, Orlando Magic
Air Congo is a little up-and-down to begin the season but has since picked up steam. He is actually averaging a career-high in points and hits 1.5 threes a game. He is not a particularly good rebounder (6.8) and his shot-blocking (1.8) is his lowest since his rookie season so maybe with a little sweet talk and cunning tactics, you might pry Ibaka from an unsuspecting owner.
2. D'Angelo Russell, PG, Los Angeles Lakers
Russell is a little inconsistent like many 20-year-olds but he is trending upward because of his improving health and better scoring. He is averaging 20 points in the last three games and has made six treys in each of his last two games. He is still shooting under 40% for the season and in the Lakers' system, he is not bound to have more than the 4.6 assists he's currently averaging. Those are a couple of reasons why D-Loading could be one of the most achievable trade targets around.
3. Jrue Holiday, PG, New Orleans Pelicans
Well, how about we mention this is Holiday's contract year and he needs to prove that he can be a team's primary ballhandler? Holiday's stellar play is a big reason why the Pelicans are 5-2 in the last seven games. The one-time All-Star has dropped four double-digit assist games in the last six, though his FG% is still below average and his subpar FT shooting (67.2%) is subpar. But with New Orleans in play for the West's last playoff seed, Holiday's best may still be in the season's second half.
4. Nicolas Batum, SG/SF, Charlotte Hornets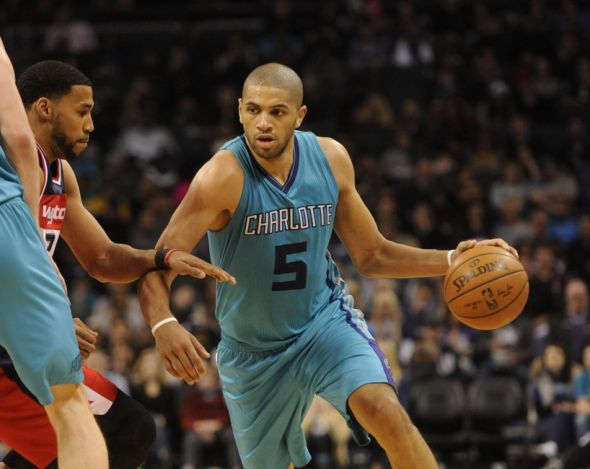 Good luck prying Nicolas Batum from his owner but you can point out his "flaws" to pull this one off. Batum is averaging career-highs across the board (14.9 points, 7.6 rebounds, 5.9 assists, and 1.2 steals) but his eFG% of 47.5% is a career-worst, as well as his three-point shooting (33.7%). His overall FG% (40.5%) leaves a lot to be desired, too. If you can rub THAT in the face of his owner, well, who knows what could happen?
5. Carmelo Anthony, SF/PF, New York Knicks
The problem with trading for Melo is he is still a big name. Just several seasons ago, he is in the conversation of being the best forward in the game, along with LeBron James. Right now, his numbers are declining which means he is the ultimate buy-low candidate in fantasy basketball right now. Just about everything is down for Anthony and the Knicks are on a 5-game slide. But with New York just one game away from a seventh seed, perhaps the Melo of old will show up and reward his (new) owner.
Photo: Frank Franklin II — The Associated Press