Rookie drafts are big on the potential franchise pillars but finding talents that float outside the radar could be just as critical. Remember Kawhi Leonard at No. 15 or Draymond Green at No. 35?
Finding underrated gems that turned out to be big-time contributors happen almost every year and in the 2016 NBA Draft, these guys have the tools to break hearts in the big league. Here are the 5 underrated prospects in the 2016 NBA Draft:
1. Denzel Valentine, SG, Michigan State
2015-16 averages: 19.2 points, 7.8 rebounds, 7.5 assists, .444 3P%
In order to be overlooked by the so-called experts, you have to be a.) a four-year college guy (low ceiling, old), b.) positionless, and c.) not a super athlete. Denzel Valentine is all of the above, except that he has a higher basketball IQ than probably anyone on the draft.
It's almost a travesty to put the College Basketball Player of the Year outside the lottery but believe it or not, that's the trend for Valentine now. Some mock drafts have him from 14-17, but one had him at 20 all the way down to the Pacers. If you know Larry Bird, he won't let this guy pass him, so probably, unless you're picking in the top 5, you shouldn't either.
A comment from an unnamed NBA exec describes Valentine best:
"He's going to surprise some people. At this point in his career, he's actually better than Draymond was. I'm not saying he's going to do what Draymond did in terms of his game skyrocketing and becoming an All Star, but at this point of his career, he's better than Draymond."
2. Brice Johnson, PF, North Carolina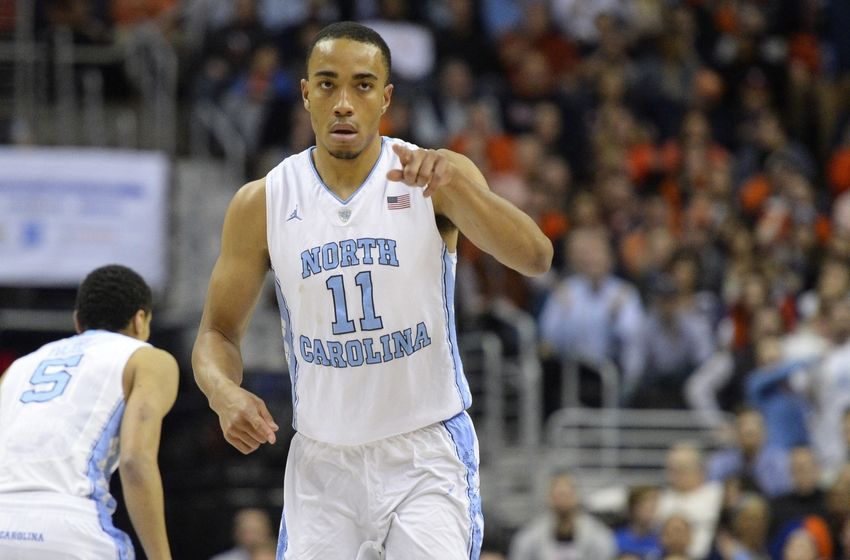 2015-16 averages: 17.0 points, 10.4 rebounds, and 1.5 blocks
At 6-11, 235, with a National championship to boot (and with that gaudy numbers), Brice Johnson could pass the eye test as a lottery pick. Not really, at least to most pundits.
Again, Johnson is 22 years old (like Valentine) so most scouts see him as a finished product. Well, if he is, there is nothing wrong with that. He is extremely athletic, very good rebounder, an already high-level rim protector and is silky smooth in the mid-range.
Most mock drafts has Johnson at the 22-27 range but there is one that has him falling out of the first round altogether. Someone's loss is somebody else's gain, I guess.
Here's a comment from a competing coach at the college level:
"I love him," said a coach whose team played Johnson and the Tar Heels this season. "I know the knock is he disappears and he's not the toughest at times. But he's a freak athlete. He can shoot the jump hook. As athletic a 6-10 as I've seen in a long time. I think he's got a chance just because of his athleticism alone. I think he can make elbow jumpers, go out to 17-18 feet. Decent touch. That'll expand as he gets older. He's good guarding in space. He can guard threes but he can guard some stretch fours, sit down. He's got a good wingspan and he can use his athleticism. He can switch and slide and everything like that. And if they beat him to the rim, he's going to alter them at the rim."
3. A.J. Hammons, C, Purdue
2015-16 averages: 15.0 points, 8.2 rebounds, 2.6 blocks
Think Andrew Bynum without the health issues but like the former Lakers big, his desire and passion often goes questioned . He's a huge guy– 7-feet, 280, with a 7-foot-3 wingspan– but moves his feet very well and already an elite defender, his chops recognized as the Big 10 Defensive Player of the Year.
Hammons apparently is built like a traditional big man but his pick-and-roll and mid-range game is surprisingly very strong. Again, at 24 years old, Hammons fall out of most scouts' and draft experts' graces, the latter projecting him as an early to mid second round talent.
However, being in the right environment (like Golden State and San Antonio, both having late first round picks) will no doubt bring out the natural talent that this guy already has.
4. Patrick McCaw, SG, UNLV
2015-16 averages: 14.7 points, 5.1 rebounds, 3.9 assists, 2.5 steals
In an era where "3-and-D" guys holds so much value and is paid a lot of money, McCaw could potentially be the best of them all. His three-point shooting is at 36.6% but that is also because of a team-high 5.6 attempts per game. (You did look at his steals numbers, right?) Even then, most mocks project McCaw as a second-rounder.
Offensively, however, McCaw has shown he is more than just a capable three-point shooter. He is comfortable in pick-and-roll situations, can attack the basket, and an underrated passer. McCaw has all the time to fine-tune those offensive skills but his calling card is on the other side of the floor.
"He can guard tomorrow night in the league," an Atlantic Division personnel man said. "He's longer than long, quicker than quick, loves to guard. His only 'flaw' is that all these young guys want him to get numbers. He is Robin. He has no interest in being Batman. But there's very few players who are good enough to be Batman in our league. The things that work against him (in college) are the things that are going to make him real good. He can shoot it well enough."
5. Dorian Finney-Smith, SF, Florida
2015-16 averages: 14.7 points, 8.4 rebounds, 2.1 assists, 0.9 blocks, 0.8 steals
DFS is no household name by any means but a strong showing at the Portsmouth Invitational Tournament opened many eyes. Still not enough to have him projected in the first round, though.
Finney-Smith is generally regarded as a second-round talent mainly because of his age. However, that could also work for him instead of the other way around. Former ESPN analyst Seth Greenberg, who is very close to Finney-Smith, commented:
"There's not a whole lot that can be thrown at him right now that he's not mature enough to handle," Greenberg said. "I have no doubt there's a place for him on an NBA roster. He has skill. He has feel. Unbelievable IQ. The ball finds him."
Featured Image: USA Today Sports