The first half of the season has gone and we have enough sample size to pretty much know what to expect as the NBA season goes on. However, conventional wisdom messes up sometimes and to be honest, it's more fun that way.
You ready?
Here are our five predictions for the second half of NBA 2014-15 season:
1. OKC Thunder Won't Make The Playoffs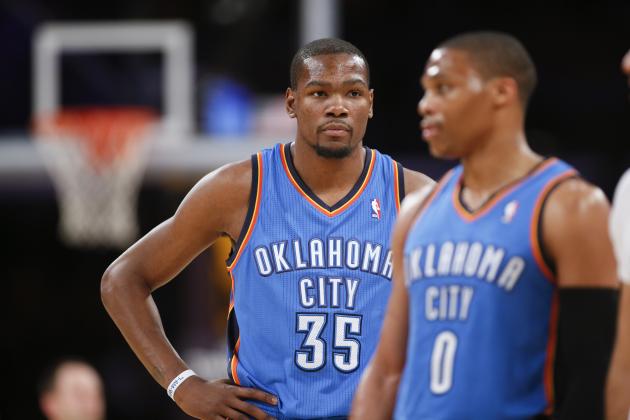 If the best player on your team spends more time wearing dry-cleaned suits than warmups and jerseys, you know you're in trouble. In an ultra-competitive Western Conference, you're in MORE trouble.
Reigning MVP Kevin Durant missed 25 of OKC's 46 outings so far and with a plethora of foot and ankle injuries, he's expected to miss more every now and then. He watched in street clothes when the team faced Minnesota and New York the past few days and that's bad news for the Thunder, who is No. 10 right now in the West, and 3.5 games behind eighth seed Phoenix.
With Durant in and out of the lineup, it's very hard to pick up a rhythm and puts more pressure on the shoulders of Russell Westbrook. The UCLA product have had his share of health issues himself which doesn't bode well for both (Russ and KD) in the long-term. The Western conference is brutal as it has always been and the margin of error is so small you can't afford to lose valuable commodities for too long. It's time for them to take a long break and heal their bodies up. Pride won't do them no good.
2. Houston Rockets Won't Make It Past The First Round…. Again
The Rockets won 20 of the first 29 games and in the last 19 outings, they're mediocre at 12-7. No, I'm not pointing fingers here but that coincides with the acquisition of Josh Smith and the release of Tarick Black. The move did hurt them more than what what many people think. The former Kansas Jayhawk is a no-nonsense type of guy who won't demand touches and– as history indicated– is able fill in seamlessly with Dwight Howard out of the line-up. From Nov. 19 to Dec. 11, Howard was absent in all of the 11 games during that span but the Rockets were still 8-3, thanks in part to Black.
Now, I'm not saying Black is a star or anything like that. But teams need role players and Houston got rid of their finest in favor of a high-volume, low-efficiency former All-Star who thinks (or plays) as if he's the best shooter in the world! Come playoff time, whether they play the Clippers, Grizzlies, Warriors, or Blazers, their weaknesses will be exposed.
I am not a hater. I just know the Rockets are just 3-6 versus those aforementioned teams.
3. We Will Crown A New Western Conference Champ
This prediction would also mean we'll be having a new champion by June. Whether that will come from the West is still up for debate but it looks like many teams are overtaking the Spurs in smarts and efficiency. The defending champs being unhealthy doesn't help either.
The league-leading Golden State Warriors are scary deep and absolutely unreal while the Memphis Grizzlies are now playing with a real perimeter threat in Jeff Green. If I have to choose from the two, I will go out on a limb and say Memphis will be crowned champions of the West just because of their grinding, physical style and the theoretical bump in offensive play–an area where they were previously lacking– because of Green.
4. Draymond Green wins DPOY
There's no way around this one but to show stats. And if your Draymond Green, that is only going to make your case stronger.
Where do I begin? OK, let's go basic. Look around the NBA and you'll only see two players average at least 8.0 rebounds, 1.6 steals and 1.4 blocks for the season. Green is one of them and the other, Anthony Davis, is 6'11 with freakish natural gifts that it's unfair. Meanwhile, the former Michigan State Spartan does his exploits in all of his 6'7, 230-pound frame.
Care to go advanced? Pick any defensive metric and you're going to see him there, right among the top. Per Basketball Reference, Green is No. 1 in individual defensive rating at 96.2 (for players who average at least 20 MPG) and defensive win shares (3.0) while going third in defensive plus-minus.
There is just no way to put it. Green's maniacal desire to win every individual matchup from anywhere on the floor makes him as lethal as anyone on the defensive end. Boy is he is picking a good time to be an Advanced Stat darling!
5. Hawks Will Finish The Season With a Better Record Than The Dubs
The Hawks are for real, make no mistake about it.
Currently riding a 17-game victory wave, the East's Spurs (38-8) are basically tied with the Warriors (37-7) in the standings. However, with the advantage of playing in a weaker conference, Atlanta's schedule should be easier the rest of the way.
They will play only 17 of the remaining 36 games at home, but will lock horns in only 5 games against teams that are in the top 4 in any conference. On the other hand, the Dubs will be matched up with conference leaders (top 4) eight times in their 38 remaining games while playing four games in six straight weeks, starting in the week of Feb. 23 to the week of March 30. Remember that in the West, teams seeded 5-8, and even 9 and 10, can put a beating on you at any given night.
That's going to take a toll.