Rudy Gobert messed up everybody's lineup last night and by everybody, I meant me and more than a third of daily fantasy basketball junkies that spent 16% of their cap for the French center.
If you've been here long enough, you can do a lot with $8100. And for the most part in that ugly game at Staples, it was an undrafted slotman out of Kansas,with around $3000 worth of DK salary, that played like the best center on the court.
To sum it up, it was a night of disappointment.
Anthony Davis hurt himself at the morning shootaround and like the Lakers and Jazz, Phoenix and New Orleans figured in an ugly battle (I'm talking fantasy-wise of course) that saw Tyreke Evans (drafted 78.3% last night) and Eric Bledsoe (drafted 68.5%) not even touching 30 fantasy points. Instead, it was Brandan Wright (only worth about $4,000) that claimed the unofficial best fantasy player in the outing. He had 16 and 8, along with a ridiculous 7 blocks to score 40 FP.
And speaking of disappointments, the same can be said for Kevin Martin (outscored 28-23 FP by teammate Chase Budinger), Andrea Bargnani (19 FP), Derrick Favors, and to a lesser extent, Danilo Gallinari. If somehow you happen to have worn your fortune-telling cap on as you drafted, Randy Foye (23 points and six assists), Corey Brewer (six points, 10 rebounds, and four assists), and Kenneth Faried (19 points and 12 rebounds) should have done wonders for your team. I didn't draft any of the three so yeah, it's quite a disappointing night.
Other notes: Terrence Jones was on his way to a one hell of a game when he got his rib busted, prompting him to immediately take a leave after a stellar first quarter. Jones had 10 points and 2 rebounds in nine minutes of action though he is expected to be out for a little bit. In his absence, Josh Smith will figure to be relevant once again.
Daily Fantasy Basketball Lineup Advice March 20
The Studs
Chris Paul and Steph Curry, PG ($9,600 and $9,700)
As far as point guards go, these two are absolute killers. Paul and Curry, along with Russell Westbrook, are pretty good choices to anchor your team because they can stuff the stat sheet and score 50 in a heartbeat.
Blake Griffin, PF ($9,000)
Let's put it his way: Blake hasn't even found his shooting touch yet after a lengthy absence and still he topped 40 FP easy. He made that possible by getting his fair share of rebounds and assists (over 5 dimes over the last 3 games) and if he ever improved on that touch, 50 FP games for the uber-athletic forward is on the horizon soon.
The Middle Prices
Tim Duncan, PF ($6,800)
While Blake Griffin is the sexier choice, Tim Duncan is the more economical one. Timmy has topped the 40 FPPG average in the past 10 days which pretty much rivaled Blake's production, only $1,200 cheaper. San Antonio will play a Celtics team with playoff aspirations so it's safe to say TD and the others are in for a competitive game.
Elfrid Payton, PG ($6,500)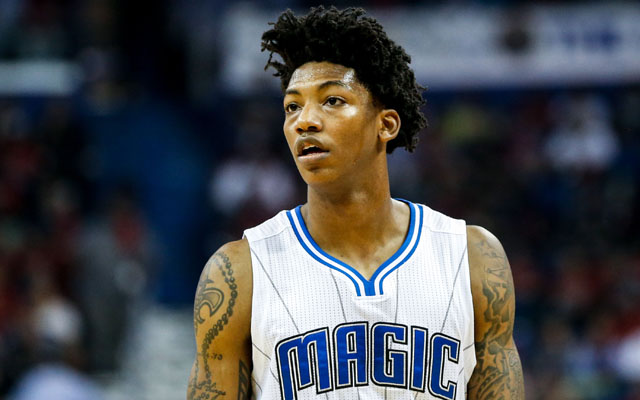 The Louisiana-Lafayette product has topped 40 FP in three of the last four, including a 53-point outburst against Rajon Rondo and the Dallas Mavericks? Will he do it this time against Damian Lillard? We hope so.
DeMarre Carroll, SF ($5,800)
Carroll has seen more opportunities lately with Kyle Korver out and he responded with a nice 42.5-point game against Golden State. The Hawks lost that game by a wide margin and they'll be looking for some payback against another Western Conference firecracker Oklahoma City. The Thunder is one of the worst teams in the league in stopping opposing small forwards making Carroll and his modest salary a must-play Friday night.
Hassan Whiteside, C ($7,600)
As far as the Heat goes, it's D-Wade's team and the superstar guard's salary is a bargain given his impressive offensive tirades lately. However, it's quite unreal that Hassan Whiteside topped 8,700 bucks just days ago only to see his salary plummet to $7,600.
The undrafted big man returned to his paint-dominating ways that was capped off by by a 38-point performance against Portland. Miami will be playing Denver at home and given the Nuggets' frailty in the frontcourt, who knows what Whiteside can do to that club?
The Bargains
Andre Iguodala, SF ($4,400)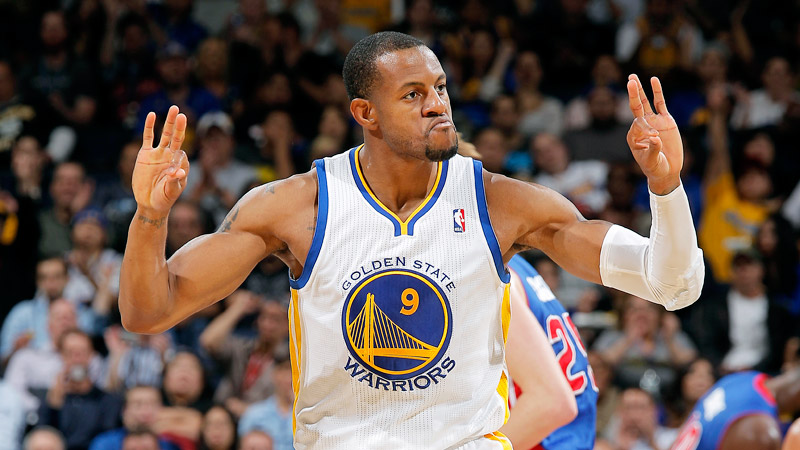 The Iggy All-Star version ain't gone ladies and gentlemen. He still has it when he needs to.
Iguodala stepped up big-time in the wake of Klay Thompson's absence and dropped 21 points, six assists, and three steals against Atlanta. They will be facing New Orleans at home next and Thompson isn't up until maybe a couple more games so feel free to use Iggy and that bargain of a salary.
Steven Adams, C ($4,500) Enes Kanter and Steven Adams figured to be the beneficiaries of the Serge Ibaka injury and now that Kanter is questionable after suffering a sprained ankle and forearm bruise, Adams value has gone up leaps and bounds. He has averaged 27.2 FP in the last five games.
Tony Snell, SF ($4,500)
If you're playing minutes like Tony Snell has the past couple of weeks, it's reasonable to guess you're bound to explode one of these days. The second-year swingman has topped at least 36 minutes during the past five outings and only has a high of 32 points to show for it. It's about time to get to 30 again.
(Note: All stats and salaries are all via DraftKings and is accurate as of March 20, 2015.)