Half of the top 10 players in the Player Rater are point guards and this is no coincidence.
Here we are at basketball's Golden Age of point guards and the way the game has been played in the recent years, you have to have an elite PG (or players that play like one) to be successful. That is even more true when constructing a fantasy team.
The fantasy blue print "point guards and power forwards" (explained here) did not come about by chance. Careful observation from our fellow fantasyheads suggests elite point guards are the most statistically diverse beings in the basketball court and more often than not, having at least one of them in our teams allows us to compete regularly against other squads in ANY fantasy mode.
Of all PG's in the top 10, the most surprising has been the Milwaukee Bucks' Brandon Knight and Brooklyn Nets' Deron Williams. To a certain degree, Chris Paul finishing outside the Top 5 is a surprise as well, but we can almost be sure CP is going to gain a foothold of the top tier as the season goes on.
Going back to Williams and Knight, they are ninth and tenth in the Rater, respectively, though only Knight's performance have been translating well in the W-L column. As of this writing, the Bucks are .500 and sitting at sixth in the East, not eye-popping by any means but a far cry from the 15-67 record they registered a season ago.
Of course, it's not wise to give Knight all the credit but it's foolish to not give some, considering he is the most consistent Buck after 14 games. As for D-Will, well, him being back to fantasy relevance after being non-existent in the last couple of years is good enough for owners.
And by the way, BK has been drafted in the 10th round on average, while Williams somewhere in the sixth round. That's the very definition of value.
Fantasy Forethought Week 5: Players to watch out for
Brandan Wright
Dallas' backcourt rotation just got crowded with the addition of J.J. Barea and the re-activation of Raymond Felton. Which basically means we cannot possibly assess on a long-term basis who among the four (along with Devin Harris and Jameer Nelson) will boast a more consistent production.
That is not the case in the Maverick frontcourt, however.
Starter Tyson Chandler and backup Brandan Wright have been splitting minutes lately (27-21 in favor of Chandler) but their numbers have been identical for the most part. If you need a boost FG% and blocks and is thin upfront, Wright's 13.3 PPG, 6.7 RPG and 1.3 BPG on a stout 89.5 shooting in the last three games should be able to help in all formats.
Marreese Speights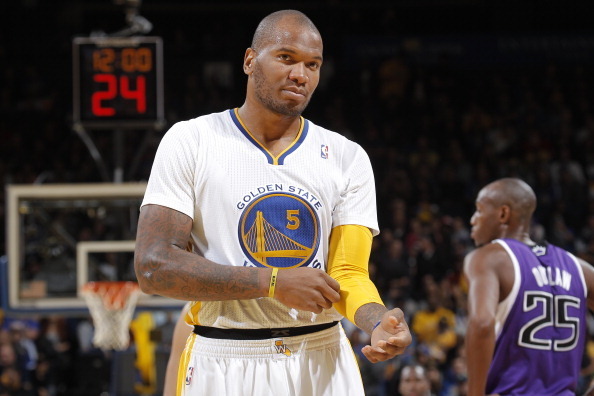 Draymond Green has established himself as a legit rotation guy in the absence of David Lee and Marreese Speights is following suit. With three-game averages of 21.0 PPG and 5.3 RPG, it's hard not to notice.
Spencer Hawes The lion's share of the Los Angeles Clippers' frontcourt minutes typically goes to DeAndre Jordan and Blake Griffin, with the occasional Matt Barnes sighting at the 4 depending on matchups. However, there is reason to be optimistic about Spencer Hawes' playing time this upcoming week with the Charlotte Hornets, Detroit Pistons, and the Houston Rockets all rated in the bottom half in efficiency against opposing centers.
Toronto Raptors
The Toronto Raptors are playing the best basketball in franchise history and a little fantasy perspective gives us a reason why: There's value all over the floor. While Kyle Lowry and DeMar Derozan are the team's designated fantasy studs, Terrence Ross (owned 44%), Lou Williams (owned 6.2%), and Amir Johnson (owned 37.6%) can contribute on any given night.
Williams, for example, contributed dropped 36 points in 29 minutes versus the Cavs and averaged over 13 points, 1.3 steals, and 1.5 3PM per outing. Meanwhile, Ross averages 2.0 three-pointers over the course of the young season with 1.2 combined STL and BLKS.
Johnson's numbers aren't spectacular by any means but has at least 2 blocks in four games that he has played.
Steve Blake and Chris Kaman
The two former Lakers play very crucial roles off the bench for the Blazers but are mainly deep-league options at this point. Their upcoming schedule have them play the T'Wolves and Lakers so if you need assists (5.3 over the last 3 from Blake) or points/rebounds (13.7 and 7 for Kaman over the same stretch), you might want to give them a try.