The NBA is like a box of chocolates. You never know what you're gonna get until you slip on the wet floor.
Anyway, I couldn't help but feel for the Toronto Raptors. The only team north of the border has turned many heads for their stellar play last season and pundits expected them to do good this year after a little seasoning.
Not this good, though.
The Raptors currently sports a 13-3 record, the best in the Eastern Conference and third overall. A testament to their consistency, there really is no significant dropoff wherever they play and is actually even better offensively on the road than they are at home. Sure, their defense left much to be desired (100.9 defensive rating basically allowing one point per opponent's 100 possessions) but their high-powered, guard-driven offense makes up a lot of that.
But then disaster struck.
The only All-Star in their roster DeMar DeRozan was left crumpled in the floor in Dallas after dribbling and turning the corner on the right side of the floor. He slipped on his own move and was later diagnosed to have torn his left adductor longus tendon (whatever that is). There isn't any timetable yet for his return and he could possibly miss the next few months or so.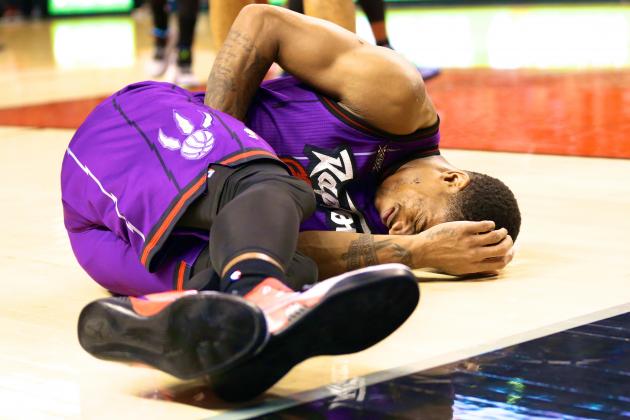 As much as I feel for the owners who drafted DeMar somewhere in the early 5th round, but this is such a devastating blow for the Raptors. They still have a very deep team and Dwayne Casey is savvy enough to patch the torn rotation but the team's dynamic without their leading scorer could be changed beyond recognition.
But then again, let's just hope for the best. If Toronto does well enough in DeRozan's absence, I'd personally start a "Kyle Lowry for MVP" campaign and Casey should think where he would put his Red Auerbach trophy by the end of the basketball calendar year.
Having said that, there seems to be a handful of players that will benefit from the 34-minute, 19-point black hole DeRozan created in the backcourt. We can expect Lowry to be more aggressive on offense but the main benefactors should be (not necessarily in that order) Lou Williams, Greivis Vasquez, Terrence Ross, and to a lesser extent, James Johnson.
Depending on Casey's preference and perceived matchups, they can choose to start Vasquez alongside Lowry so he can play more off the ball and concentrate on scoring. Casey can also opt to plug Johnson in the starting line-up for defensive purposes. (Toronto allows only 94 points per 100 possessions Johnson is on the floor which pretty much puts him in the same breath as Andre Iguodala.)
In my opinion, Williams should be left on reserve and resume his "bench scorer extraordinaire" role, albeit, with more responsibility and increase in minutes. Lou has bean tearing it as of late averaging 22.6 points and 2.2 steals in only 26 minutes for the last 5 outings with 3.2 makes from deep and over 93% from the line. If you haven't picked up Williams yet, someone else will.
Fantasy Forethought Week 6: Players to watch out for
Danny Green, San Antonio Spurs
I have come to loathe and cringe on Manu Ginobili's rather fickle production this year, but one Spur that has been fairly consistent is Danny Green. The former Tar Heel is in the middle of a hot shooting and defensive streak, averaging almost 3 makes from deep territory and 2.4 blocks in his last 5 games. From the shooting guard position, that is pure fantasy gold.
Mo Williams, Minnesota Timberwolves
If Andrew Wiggins isn't available in your league's waiver wire, you can go for the next best value in Mo Williams. The journeyman recorded double digit assists in three of his last four contests and drills almost 3 treys during that span.
Timofey Mozgov Timo is quietly putting up fantasy roster-worthy numbers: 12.0 points, 8.4 rebounds, 0.8 steals and 1.8 BPG in the last five. Other Nugget centers Javale McGee and JJ Hickson (and more often than not, in street clothes as in McGee's case) averages far less minutes than the Russian so it's not like he will get supplanted as a starter anytime soon.