I'll be the very first one to admit that there is no such thing as a perfect draft unless you're competing with six year olds. But relatively speaking, you can pretty much nail a fantasy basketball draft if you come prepared. and has a clear goal in mind.
The league scoring also matters and for this article, let's hypothetically consider how to complete the (near) perfect standard points league draft.
In a points league, the general rule is go for high-efficiency bigs (high FG% ) over high-volume, low-efficiency guards. Big men generally grab a lot of rebounds and operate nearer the basket while guards take a lot of shots and miss more, which reflects badly in their total score.
With that in mind, let's consider who you can draft during each round.
Round 1
Efficient, high-rebounding, shot-blocking big men, right? If you are in the top 3, consider going for Anthony Davis, Giannis Antetokounmpo, and Karl-Anthony Towns over the guards such as James Harden or Steph Curry. (If you go outside the top 5 and all these prized big men are gone, of course, you should take Harden or Curry with your pick.)
Giannis has the edge simply because he is eligible for the thinnest position in fantasy basketball (SF). While he is not the best FT%, the sheer number of points and rebounds he gets could offset that and he also racks up assists, steals, and blocks.
KAT can also be a really nice option because the man just doesn't miss games (only 5 games in four seasons). He is also shooting 40% from deep last season while gobbling 24 points and 12 rebounds. Anthony Davis is by no means a consolation price but the risk of injury is always there with the Unibrow.
That said, my options are, in order, Giannis, KAT, and AD depending on availability.
Round 2
If you're drafting top 3, that means your second round pick as at the 22-24 range. The early round bets such as Rudy Gobert, Nikola Vucevic, and Pascal Siakam may be gone but if you're feeling lucky, snag Zion Williamson (who's shooting up in drafts pretty quick because of a stellar preseason), Julius Randle, or John Collins. Randle may be a bit of a stretch at this spot but his role is pretty safe as a ball-handling forward that can grab rebounds and score at a high rate.
Remember, the strategy to work around with are efficient and rebounding big men, so these choices fall right into that category.
Round 3
I don't think Zion goes past the 27-30 picks so if you falls into your lap in that range, GO GET HIM!
Now, if you're thinking to get a wing or a PG in this round, DeAaron Fox is not a bad option as well as DeMar Derozan and Devin Booker. Derozan's lack of 3PT-shooting may actually help him in points leagues because he rarely attempts one (0.6 3PA last season), therefore, his misses are not as impactful to his overall fantasy points total.
Round 4
Kevin Love may still be very available even at the tail end of the draft but his lengthy injury resume could be a deal-breaker. Mitchell Robinson is an automatic double-double if he gets minutes (13 points, 11 rebounds, and 4.3 blocks per 36 minutes) and he shot a ridiculous 69.4% from the field last season. Sounds like he fits the bill.
Round 5
I really like the idea of taking Zach Lavine here because he can score a lot but has also upped his efficiency last season (23.7 points on a 46.7% clip). His rebounding and assist numbers are not that bad as well (4.7 rebounds and 4.5 assists).
If he's not available, Marvin Bagley III and Steven Adams could very well be your choices. Not having enough guards and wings may freak you out so C.J. McCollum could be an option as well as Chris Paul. (I'd stay away from Kristaps Porzingis at these rounds because he does not rebound at a high rate and shoots only 44% from the field in his career.)
Again, like what I've said earlier, points leagues handsomely rewards rebounding big men so I'm sticking to the plan all the way and worry about positions later.
Round 6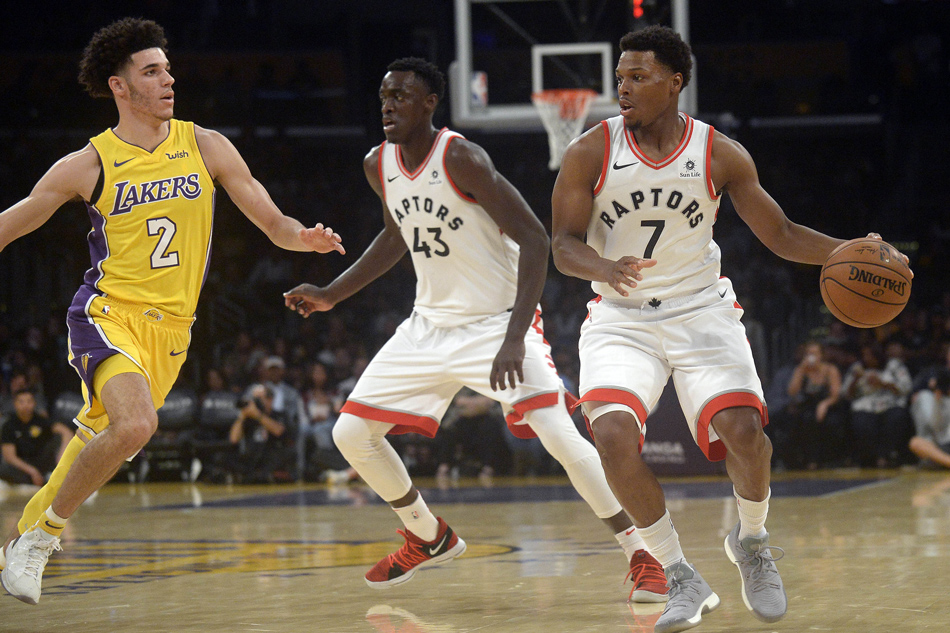 My dream target here would be Kyle Lowry, who could easily be a 20-point scorer again without Kawhi Leonard. He is not a bad rebounder (hovers around 5 rebounds per game in each of the last 8 seasons) and an elite passer (8.7 assists last season). My only concern would be FG% but since he is generally low-volume compared to his peers, I'd take Lowry in a heartbeat if he falls into my lap at Round 6.
What if he is not there? No problem. I'd go grab myself another point guard like Lonzo Ball whose numbers in the preseason translate to 15.2 points, six rebounds, 9.6 assists, and two steals per 36 minutes, according to NBA.com/stats. The usual concern in FG% are there but like Lowry, he is normally a low-volume guy so I'd take a chance on him.
If I get my way in all of these rounds, I'd have:
PG – Kyle Lowry
SG – Zach LaVine
SF – Giannis Antetokounmpo
PF – Zion Williamson
C – Mitchell Robinson
C – Rudy Gobert
Round 7
At Round 7, I feel like Bam Adebayo could be a steal. He is the clear-cut starting center for the Heat and while he has not shot the ball particularyl well in the pre-season (42.3%), he is a career 55% shooter. Moreover, Bam's preseason stats per 36 minutes is remarkable: 20.4 points, 13.3 rebounds, 3.9 assists, and 3.9 blocks.
That's just WOW!
Round 8
At this moment, you have to start thinking about position. You can't draft big men forever, but the key is sticking to the game plan. At this point, I will choose between Jeff Teague and Lou Williams. Since Teague can be used for shorter stints early in the season, I'd go for Lou Will, who once averaged 18 points in under 25 minutes. He will miss his fair share but he gets enough assists and rebounds to cover up the missed FGs spread.
Round 9
One name to look at here: Brandon Ingram. He has the most potential to outdo his ADP, which is at this very round. Not just at this round but at LATE round 9.
Ingram can score in bunches and has shot almost 50% last year as he completes his scoring package. Zion Williamson will be out for a few weeks so the touches will be there, along with the minutes, so I got nothing but love for this pick right here at Round 9.
Update:
PG – Kyle Lowry
SG – Zach LaVine
SF – Giannis Antetokounmpo
PF – Zion Williamson
C – Mitchell Robinson
C – Rudy Gobert
G- Lou Williams
F- Bam Adebayo
Util- Brandon Ingram
Round 10
Again, one name that can help you win in points leagues at this draft: JaVale McGee. McGee is a double-double waiting to happen in 20-25 minutes of playing time and he just don't miss that many shots.
In under 17 minutes in the preseason, he is averaging 9.6 points and 7.4 rebounds while shooting 71% from the field and 75% from the line. He gets the job done in limited minutes so he will help the team BIG time.
Rounds 11-13
A lot of options here but during these last rounds, it makes sense to swing for the fences. At this point, two point guards are on my radar and these are Carsen Edwards and Darius Garland.
Edwards' situation is a little precarious since the Celtics has like 500 guards on their roster but the Purdue products is averaging 15 points in 18 minutes in the preseason. Garland, on the other hand, just came back from injury but averages nine points and 2.7 assists on limited run so these youngsters can potentially do a lot of damage here.
Another per-minute monster I'm looking at at No. 13 is New Orleans' Nickeil Alexander-Walker who is averaging 15.4 points, 2.6 rebounds, and four assists in just 18.5 minutes. The Pelicans are stacked but it would be foolish for Alvin Gentry to not find minutes for NAW, who leads the team in Net Rating in the preseason (+21).
Results:
PG – Kyle Lowry
SG – Zach LaVine
SF – Giannis Antetokounmpo
PF – Zion Williamson
C – Mitchell Robinson
C – Rudy Gobert
G- Lou Williams
F- Bam Adebayo
Util- Brandon Ingram
Util- JaVale McGee
Bench- Carsen Edwards
Bench- Darius Garland
Bench- Nickeil Alexander-Walker
Featured Image: Bruce Kluckhohn / USA TODAY Sports