The Studs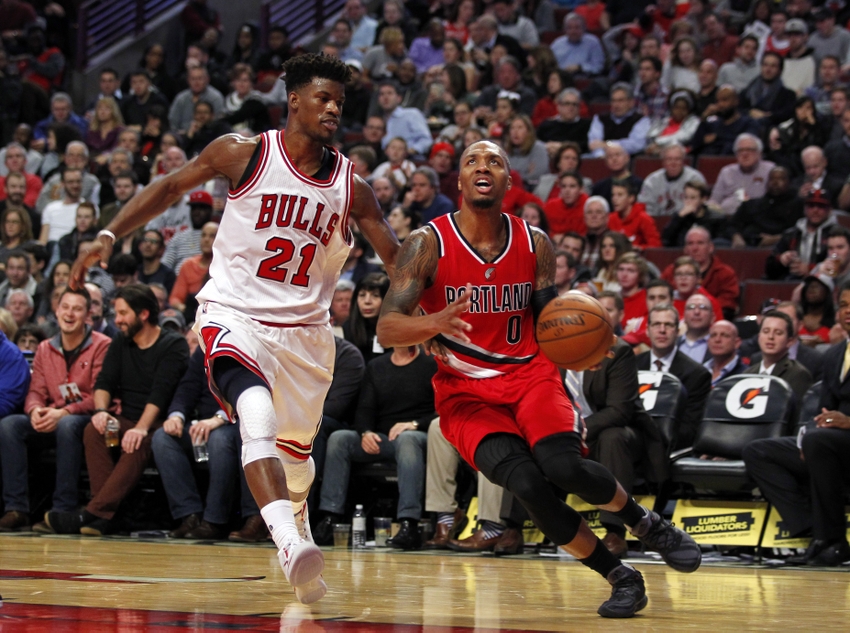 Damian Lillard, PG, Portland Trail Blazers ($8,300)
Dame has been off with his shot lately and is facing a stout defensive team in Memphis. That doesn't mean you shouldn't consider him. Perennial All-Stars like Lillard go off at the slightest hints and his salary is the lowest since the start of November. Plus, the Grizzlies won't be playing Mike Conley because of an Achilles issue so Lillard has one less problem there.
Jimmy Butler, SG, Minnesota Timberwolves ($7,500)
Butler has been pretty much feast or famine– he'll either give you 40+ FP game or a 19.75-FP one, much like his output against Dallas on Nov. 4. That could be attributed to the change of scenery but it looks like he has turned a corner lately. Butler has at least 42 FP in three of his past four games and will be facing the Hornets next, a team that is second-worst in the league in stopping opposing shooting guards.
The Middle Men
Steven Adams, C, OKC Thunder ($5,700)
Adams is one of the fantasy basketball's most consistent forces, making him a highly-reliable option in the middle. He will get his usual high-20's, low-30's in terms of playing time while dropping the occasional double-double. He does not have a high ceiling but his floor is considerably higher than anyone at this price range.
Dennis Schroder, PG, Atlanta Hawks ($6,300)
Like Lillard, Schroder's salary is on a month-long low and that should make him a must-pick even if the Hawks will be taking on the Spurs Monday night. The German point guard already had two big games against the Celtics, the league's best defensive team, although the fact that he is not quite as good on the road is a little troubling.
The Bargains
Kyle Anderson, PG/SF, San Antonio Spurs ($4,500)
Slow-Mo Kyle is the Steven Adams version on the wings. He doesn't have a high ceiling but he will consistently get around 25 FP a night which is almost unheard of at $4,500.
Dirk Nowitzki, PF/C, Dallas Mavericks ($4,100)
Dirk is averaging 11 points, 7 rebounds, and almost 4 assists in the past three games, so he could he be turning a corner? No one really knows but that type of production is encouraging even though we know Nowitzki is just a shell of his former self. If you can't trust him enough at this point, you can try Atlanta's John Collins for $4,500.
Note: All salaries and stats are from Draft Kings.
Featured Image Mandatory Credit: Steve Dykes-USA TODAY Sports