November 17, 2015– Daily Fantasy Basketball Value Picks
The Studs
Rajon Rondo, PG ($8,700)– Russell Westbrook has the highest DFS potential of ANY point guard in the league but Rajon Rondo isn't too far behind. The volatile point guard averaged 48.6 fantasy points (FP) in the past six games. Rondo and George Karl is clearly seeing eye-to-eye while the other Kings point guard Darren Collison has not played a game yet since November 6.
Paul George, SF ($9,500)– PG13 is the hottest small forward in the past eight games, dropping at least 39.25 FP in each one of those and topping 50 points in three of those. George is no doubt Indiana's top gun so the stats will come no matter what and therefore, feel free to roster him in any of your teams.
Other options: DeMarcus Cousins, PF ($10,300); Damian Lillard, PG ($8,800)
The Middle Class
Eric Gordon, SG ($6,400)– Truth is, I have never rostered Gordon in any of my teams since the start of the season but I have to seriously take a look at him for tomorrow night. Anthony Davis may sit out (or will be limited) because of a bum shoulder, Tyreke Evans hasn't played a game yet, and Jrue Holiday is still on a minutes restriction, so Gordon should see enough Usage Rate to be valuable.
Terrence Jones, PF ($6,200)– Houston is in desperation mode and after a team meeting recently, well, they should be better. Jones is the Rockets' best option at the 4 (don't mention Trevor Ariza, please) and he's showing that lately. He has averaged 30.1 fantasy points in their last four outings.
Other options: Thaddeus Young, PF ($6,100); Rudy Gobert, C ($6,700)
The Bargains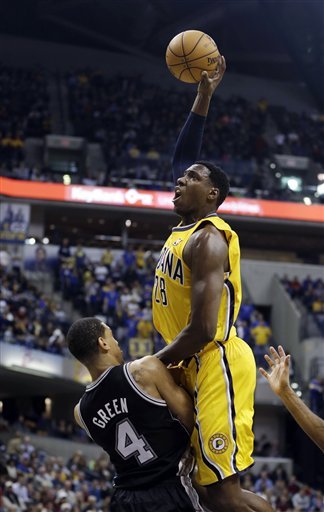 Danny Green, SG ($4,200)– Alright. Danny Green sucks, even Tim Duncan says so. But for how long? In ten games, Green has only reached double-digit scoring three times and it's not like he has contributed well in other categories. Green has been so solid for so long that he deserves a chance here. Well, I'll understand if you don't , but the law of averages is saying he's due for a big game. Whether it's against Denver Wednesday night, we will see.
Ian Mahinmi, C ($4,200)– With Myles Turner out, the Pacers are only two-deep at the center spot, so you have to pick between Ian Mahinmi or Jordan Hill (Hill is listed as a PF at DraftKings, by the way). Hill is a bit diverse offensively, but his penchant for putting up shots made him susceptible to rough shooting nights like he had against Chicago (1-7, 14.3%). Mahinmi is more likely to pick his spots, that's why he has almost 24 FP in the past five.
Other options: Dennis Schroder, PG ($4,900); Jordan Hill, PF ($4,600)
Note: All stats and salaries are from Draftkings.com
Featured Image Credit: Jennifer Stewart-USA TODAY Sports