If you think something that is glorious, baffling, scary, and weird at the same time, it's got to be the rituals of NBA players. Like their predecessors, there are a handful of modern hoops athletes that follow certain routines that are– quite frankly– just too weird for this computer age.
Well, we can say anything we want, but I guess it just boils down for personal preference. Different strokes for different folks.
Here are the weirdest NBA rituals of all time:
Rajon Rondo's Pre-Game Ritual
Rajon Rondo is a complicated person and you can see it in his game– and his routines. Jason Terry, one-time teammate of Rondo in Boston, details how the four-time All-Star go through the pre-game warm-ups, per ESPN:
"His routine is long-winded and it lasts all the way through tip-off. It starts in the back hallway. He runs down a corridor and he throws the ball to our team chaplain, who throws it back. Then [Rondo] runs out into a circle, high-fives the whole team and then he does the layup lines for five minutes.
"Then he will stand under the goal and Paul Pierce will shoot every ball on the rack from half court. Rondo will catch four balls at one time and then after that, it's just amazing — one pass off the backboard to KG, one bounce pass to Paul Pierce and then he throws it all the way up to the scoreboard and Jeff Green finishes with an alley-oop.
"It's every game, even road games. I have no idea how he started it; I'm new to the team. I was still going through layup lines and I almost got hit with one of those balls in the head. I wasn't aware that's what they were doing. It threw me off.
I wonder if he's doing it in Dallas now.
Jason Terry's Superstitions
Of all people, "The Jet" should know what Rondo feels more than anyone. The man is literally a walking superstition himself!
He always eats chicken before the game and wears five pairs of socks on the game itself. We're not even in the weirdest part yet! Terry gets his hands on every opponent's shorts (all authentic by the way) and sleeps on them the night before the game.
If you don't think that's weird, I don't know what is.
Jason Kidd's Kiss
A trip to the charity line is all about routine and in the case of 10-time All-Star Jason Kidd, he blows a kiss just before every free throw for his hot wife Joumana. Word is, after a very rough divorce, J-Kidd didn't ditch the ritual altogether but simply added the ass-swiping motion that came along with it.
Gross.
Kevin Garnett's Hard-headed Ways
KG is one of those undeniably intense players of all time and it shows in his tip-off ritual. Before everyone gathers at center court for a jumpball, Garnett bangs his head into the stanchion several times for reasons I know not of.
The Barometer
Bill Russell is known in the NBA circles for a lot of things: 11-time champion as a player, twice as a coach, 5-time league MVP, 12-time All-Star and the list goes on. But during his playing days, his teammates remember him most for one thing: throwing up a heap before big games.
Yes, ladies and gentleman. The greatest winner in NBA history gets nervous a lot that he's often sick to the stomach right in the locker room. Fellow Celtic and Hall-of-Famer John Havlicek said Russell's queasiness became some sort of a barometer for the team.
"He used to throw up all the time before a game, or at halftime. A tremendous sound, almost as loud as his laugh. It's a welcome sound, too, because it means he's keyed up for the game, and around the locker room, we grin and say, 'Man, we're going to be all right tonight.'"
Timmy's Tights
Tim Duncan has countless rituals on the court namely hugging the ball before the jump and hanging on the rim just before his name is called in home games.
But that's hardly the most interesting one in Duncan's list and he "discovered" this one by accident. Per SlamDuncan.com:
"I wear my practice shorts backwards during practice. In college I came out of the locker room one practice and later realized my shorts were on backwards, so I didn't bother to correct them. I had a great practice, and ever since it has been a tradition for me."
MJ starts a trend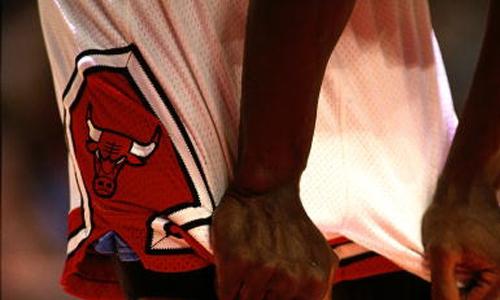 There's something about these college shorts.
While Tim Duncan started wearing his backwards, Michael Jordan wears old college trousers under his Bulls shorts. (Notice the Tar Heel colors?) It wouldn't look right if he kept wearing both of the same length so MJ decided to wear long shorts in 1989, thereby starting the trend.
He's just a natural businessman, isn't he?
From Oak to Lee

Charles Oakley's feisty ways is a thing of legend but during Oak's memorable stay with the New York Knicks, he developed a soft spot for superfan Spike Lee. One of their simple, but otherwise respectful, pre-game ritual is Oakley throwing a bounce pass to Lee with Lee befittingly tossing it back to Oak after a short inspection.
Rip Likes It Clean
Apparently, Rip Hamilton loves the shower. He loves it so much that it doesn't feel right if he hasn't taken one before the game. Rip gets all the jokes with his ritual but he feels it's something that he must do to play at a high level, so why not?
At least he's not wiping his ass.
Karl and Jeff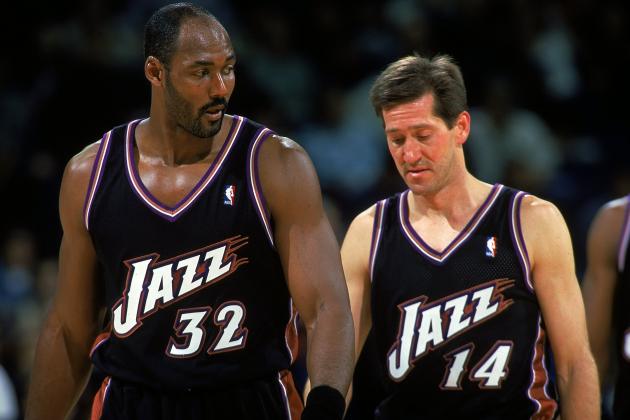 Even though they have not won championships together thanks to Michael Jordan, Karl Malone and Jeff Hornacek could easily bag the record of teammates having the weirdest free-throw rituals.
Malone famously mutters words unbeknownst to men during his trips to the foul line while Hornacek rubs the right side of his face to say hello to his children. From the looks of it, thinking wholesome things about your family does help you at the charity stripe.