Who to Pick (Studs):
Kevin Durant, SF/PF, Brooklyn Nets
KD has been rolling in the past five games to the tune of 31.6 points, 8.2 rebounds, 5 dimes, and 2.2 blocks. He also made 15 treys during that time with crazy efficiency. Even if he's not shooting well, Durant does other things, just like the 13-rebound, 5-assist game in the close win against Miami.
Who to Avoid (Studs):
Steph Curry, PG/SG, Golden State Warriors
It's always hard to pick against a scorer as explosive as Steph, but the visiting Celtics allow the the fourth-least three-pointers made and is top 10 in FGs allowed.
Who to Pick (Middle Tier):
Enes Kanter, PF/C, Portland Trail Blazers
Kanter is averaging 13 points and 13 rebounds over the past five games and that includes the blowout loss against Milwaukee last night. Washington owns the league's worst defense allowing 122 points a night and the sixth-worst in the league in Defensive Rebounding rate. I think Kanter will be just fine.
Who to Avoid (Middle Tier):
Evan Fournier, SG, Orlando Magic
Fournier will get a boost on usage with Aaron Gordon set to miss time, but the Frenchman has put up two stinkers in a row. Sometimes, injuries to productive teammates doesn't always equate to better production for others. The defense knows who to key in and players like Fournier end up struggling.
Who to Pick (Bargains):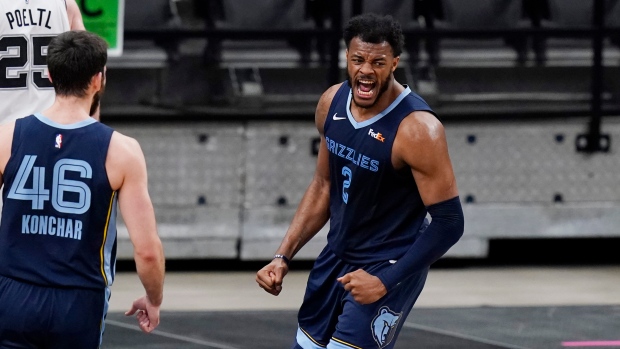 Grizzly Trio
I really like what DeAndre Melton, Xavier Tillman, and Gorgui Dieng bring lately for the Grizzlies. Melton has provided ample scoring punch in the back-to-back vs the Spurs while Tillman and Dieng have been fantastic inside presence with Jonas Valanciunas sidelined. If you're opting for a big man, Dieng is slightly priced less but Tillman has been starting. Either way, if they end up splitting minutes, they are both good bets to approach the high 20s to low 30s.
Who to Avoid (Bargains):
Robert Covington, SF/PF, Portland Trail Blazers
As long as he's in a Blazer uniform, I think RoCo's days of being a 30-FP performer is over. He might still be sporadically, but I am already giving up on him on DFS. I've seen enough.
Featured Image: (AP Photo/Ben Margot)