Just a week ago, it seems like everybody is ready to crown the Phoenix Suns as the champs. They had complete control of the series after the first two games and both Chris Paul and Devin Booker are playing out of their minds.
Three games later, it won't be the Suns who will have the chance to take home the Larry O'Brien trophy. Talking about a complete 180! And it could turn out to be a complete disaster for Phoenix, who will be tested with their backs in the proverbial wall.
As good a leader as Chris Paul, I think there will be no escape this time. Devin Booker has been carrying too much of the offensive load over the past two games and you can't help but wonder if he has anything left. If you're a Suns fan, you won't like it but I guess there won't be no stopping the Bucks train from taking over and winning their first championship since 1971.
Here are three reasons why:
1.) Coach Bud has been willing to adjust.
If you have been to one of these NBA forums, many has been clamoring for the head of Mike Budenholzer since he has taken over the reigns in Milwaukee. And as crazy as the notions have been, the detractors have a point: Bud has shown no willingness to adjust in-game and he has always insisted on playing 10 guys in the playoffs.
Well, not anymore!
Even though he did try and play Jeff Teague in that disastrous first quarter, most of the time Bud has been willing to cut his rotation to seven guys and also have been more than willing to play Giannis close to 40 minutes a night. When he was hired in 2018, the Greek Freak averaged 34.3 minutes a game in the 2019 playoffs, and only 30.8 MPG in 2020. Yikes! In the last three Bucks wins alone, Bud has his stud playing 40.4 minutes a night and it has showed.
One other adjustment in Budenholzer's part is putting Giannis more in spots where Phoenix could not just offer up resistance. We have seen this movie time and again: Why would you put Giannis at the top of the key and let the other team's defenders put a wall on his way to the basket? Bud has insisted on that offense since he was in charge, BUT NOT ANYMORE.
In this series alone, we have seen more of Antetokounmpo, not in that eyesore-causing, top-of-the-key offense we see him operate time and again. This time around, there are are more variety to Giannis' game– from post-ups, to wing isos, to rim-rollers, and even just letting Khris Middleton and Jrue Holiday do their thing.
Bud's willingness to put Giannis on these spots allowed the Bucks to have unpredictable variety on their offense., and that adjustment hat could very well net them the coveted NBA championship.
2.) Bucks are playing to their strengths.
One takeaway showing that a team has figured out how to beat another is by always playing to their strength.
What are the Bucks strength/s? Size, length, and physicality. The Bucks have Bobby Portis and Pat Connaughton coming off their bench and practically always have a 7-footer on the floor at all times. There was even a stretch in the fourth quarter where they played Middleton at point guard with Holiday resting.
How did the Bucks' size affect the outcome of the games? Well, Milwaukee pounded the glass on their smaller counterparts in Game 3 with a +11 on total rebounds (+7 on the offensive glass). Game 4 was no different. Bucks were +8 in rebounds overall, including a whopping +12 on the O glass. Game 5 was pretty close, but we saw how many offensive rebounds the Bucks got in that final minute that practically sealed the game.
If I have three seven-footers in my lineup and the other team basically had one serviceable center, then I'd know what to do. It's not rocket science and the Bucks right now is more than happy to punish the smaller Suns.
3.) Book may not have a lot left in the tank.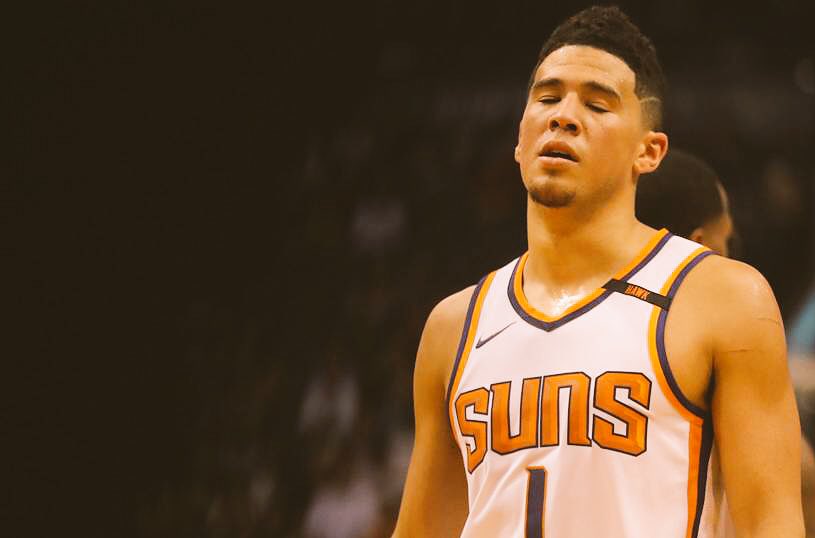 What? Booker is 24 years old and you're saying he doesn't have enough left? Well, for one, this has nothing to do with age. This has everything to do with the Suns' inability to generate offensive sources outside of Devin Booker and Chris Paul.
Booker is averging 30 attempts from the floor the last two games, approximately 36% of the Suns total attempts in that span. He has been shooting insanely well, over 55%, but that's in the face of double and triple teams. He made shots, but it takes a lot out of him to make those shots, and at this level, this matters.
As good as the guy is, he isn't Kobe Bryant. And even if he is, at this rate, he'll be broken down as a box of cereal. You just can't have offense centered around a guy who has just made his playoff debut. That never happened, and the Bucks know that.
That is why they invested on a guy like Holiday, who can take over and make plays for stretches so that their real money guys can do what they're supposed to do. The Suns is a feel-good story, but with the way things are going, this could be the end of the line for them.
Featured Image: