Now that the dust has (almost) settled for the 2019 NBA Free Agency, it's time to see the moves and trades from a fantasy perspective. That said, never in our wildest NBA dreams that we see things ending up this way: a.) Kawhi Leonard is now a Clipper and convinced Paul George to ask a trade and be his running mate. b.) KD and Kyrie joined forces in Brooklyn (and there might be some tampering involved, but we don't know for sure. c.) Westbrook and Harden on the same team while CP3 is in OKC purgatory. d.) and the 537 other maneuverings all around the NBA. So, who has the finest fantasy forecast?
Fantasy Winners
Steph Curry
With all the power duos in the league right now that have to share touches and the limelight, Steph Curry will have the chance to showcase his talents essentially by his lonesome. Aside from Giannis Antetokounmpo, I'd definitely consider Curry as the top pick in any format this season.
Last season's fantasy note: Only player to average at least 27 points, five rebounds, five assists, 1.3 steals, and five treys while shooting 91% from the line.
Draymond Green
The Warriors will require all hands on deck just to secure a playoff spot but outside of Steph and to a lesser extent, D'Angelo Russell, they need Green to be the Draymond circa 2014-17 where he missed only eight games total. During that span, he averaged 12 points, 8.5 rebounds, six assists, 1.7 steals, and 1.4 blocks, which will be a nice piece to build around in roto leagues.
Last season's fantasy note: Green was atrocious in the regular season as he was shuffled in and out of the active lineup because of injuries, so it's not indicative of how good he can be. The playoffs is another story: He was the only player to average at least 13 points, 10 rebounds, eight assists, 1.5 steals, and 1.5 blocks in the 2018-19 postseason.
Mike Conley
How will a trade to a contending team affect Conley's stock? Positively, I presume. Even though Conley will have to share with another ball-dominant guard in Donovan Mitchell, his game is predicated on his low turnovers, solid steals, and underrated scoring and three-point shooting. You may want more assists from Conley but he actually averages more per game over his career than Kemba Walker.
Last season's fantasy note: One of only four players besides LeBron James, Kyrie Irving, and James Harden to average at least 21 points, six assists, 1.3 steals, and two threes a game.
Anthony Davis
The last time AD played with another high-usage player, he averaged 28 points and over 11 rebounds a game in back-to-back seasons. With that said, there's no reason that a 26-year-old athletic freak on his prime wouldn't have his best season playing with one of the best creators the league has ever seen in LeBron James.
Last season's fantasy note: It's hard to quantify how good Davis could be in fantasy basketball given how the season ended for him and the Pels but, yeah, the guy's pretty good.
Donovan Mitchell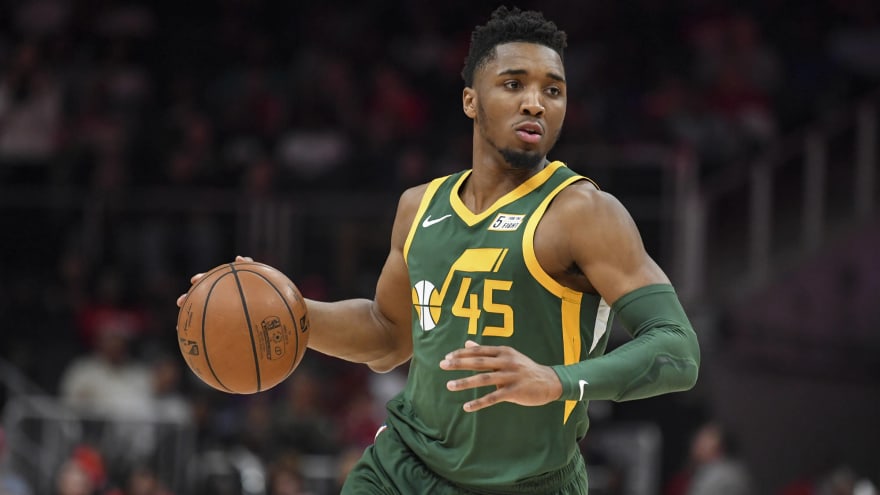 If Conley's fantasy prospect looks promising, then the Spida's should be extra bright. For the first time in three years, Mitchell can just concentrate on scoring with Conley in town plus the addition of Bojan Bogdanovic will surely help the spacing for his driving lanes. Mitchell never shot 44% for his career but look for those numbers to improve playing alongside capable playmakers.
Last season's fantasy note: One of five players to average at least 23 points, four rebounds, four assists, and 1.4 steals while making two threes a game
Pascal Siakam
Without Kawhi, Siakam figures to be the most important forward and could possibly even take the leap and be the first option over Kyle Lowry. Whatever the case, the reigning Most Improved Player will have a chance to shoulder more responsibility and build on his fantasy success from last season.
Last season's fantasy note: Only player to average at least 16 points, six rebounds, and three assists while shooting 54% from the floor and 78% from the line
Clint Capela
I hear the Rockets were shopping Capela earlier in free agency but with Russell Westbrook on board, that's a really bad idea. Westbrook (and Harden) are superb passers and are excellent in finding vertical spacing and Capela is an obvious target. (The most assisted play in the NBA last season was Harden to Capela and the second right behind is Westbrook to Steven Adams.) Capela averaged 17 points and 13 rebounds last year with an improved FT% and an insane 65% clip from the field. I think he'll do much, much better with The Beard and Westbrook getting all the attention, which, I should say, will be pretty scary.
Last season's fantasy note: Only player to average at least 16 points, 12 rebounds, and 1.5 blocks while shooting 64% from the field
Zion Williamson
Is Zion already a top-20 pick? I don't think so but I understand the logic behind it. Zion may have already a better team in NO compared to what Anthony Davis had there in over half a decade so he won't have the pressure of carrying his team on a nightly basis. What he will and can do is create havoc on defense, run on the break, and dunk on people. If his projections of 22.5 points, 8.5 rebounds, 2.5 assists, 1.8 steals, 1.1 blocks, and 0.8 treys a game (on 56 FG% and 68 FT%) pans out, I guess I'll have to beat myself up if I don't reach for him in the first two rounds.
Julius Randle
Randle signed with the New York Knicks in the off-season and we certainly do know they don't have a chance to sniff the playoffs unless it's fantasy basketball. That said, I can see the former Kentucky Wildcat be a fantasy superstar next season for the Blue and Orange along the lines of 25 points, 10 rebounds, three assists, and 1.5 steals + blocks with sporadic threes. He's not a bad one to target in the middle rounds.
Last season's fantasy note: Only player to average at least 21 points, eight rebounds, and three assists while shooting 34% from deep and 52% overall.
Bam Adebayo
Another sneaky good target in the post-middle rounds, Adebayo is the clear-cut starting center for the Heat with Hassan Whiteside going West. Probably Bam's most underrated skill is his passing ability, averaging 3.5 assists per 36 minutes in 2018-19. That's 11th overall for players who qualify as a C and played at least 1,500 minutes.
Last season's fantasy note: One of only two players who averaged at least seven rebounds, two assists, 0.8 blocks, and 0.9 steals while shooting at 57% from the field. The other one? Giannis Antetokounmpo.
Featured Image: Gary A. Vasquez-USA TODAY Sports