After selecting our SIX Eastern Conference All-Stars, it's time to do it out West. Here are your 2016 Western Conference Fantasy All-Stars, by traditional position:
PG: Stephen Curry, Golden State Warriors
As far as statistics is concerned, the 2015 NBA MVP is head and shoulders above the rest. He will carry your team single-handedly in multiple categories, namely scoring (30.1 PPG), 3PM (4.9), FT% (91.1% on almost SIX attempts), and even contributes on other stuff like rebounds (5.4), assists (6.6) and steals (2.1)
We can go about this all night but let's sum it up with a few words: This CURRY guy is the best ball player in the planet right now, reality or fantasy.
SG: James Harden, Houston Rockets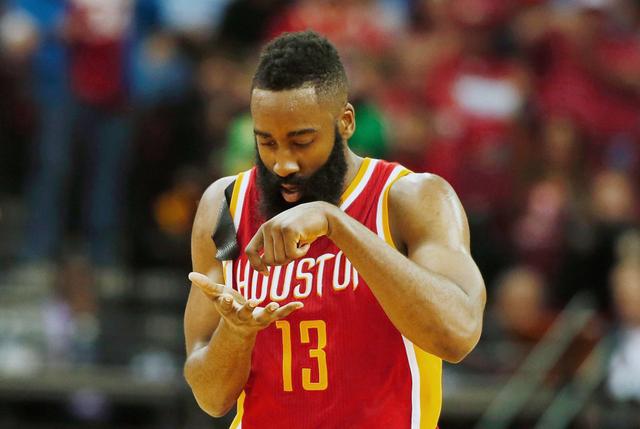 "The Beard" may have a thing or two to say about my last statement about Steph Curry and statistically speaking, he may have a case. Harden dominates in multiple categories (27.6 PPG, 6.0 RPG, 6.9 APG) and aside from a less-than-desirable FG% (42.2), also contributes in defensive categories like steals (1.5) and blocks (0.6). (Reality is different from fantasy, I know.)
Aside from that, Harden has not missed a game yet this season and that also accounts in fantasy, especially if you are producing at a high rate like "The Beard".
SF: Kevin Durant, OKC Thunder
Think about this for a moment: KD is not OKC's best fantasy option. Yes, 27-8-5 plus 1.0 steal and 1.2 blocks ain't the best the Thunder has to offer (more on that later). However, as far as true small forwards go in the West, only two people is considered elite, and he is one of them. Moreover, this season's net rating is the best of Durant's career (+20) since 2012-13 suggesting his statistical contributions on defense will keep up as long as he is healthy.
PF: Draymond Green, Golden State Warriors
Two Warriors on the same fantasy team? Not bad, huh.
Green does have a lot of competition in this spot, namely Anthony Davis (yes, THAT Anthony Davis who went top-3 in every fantasy draft) and Karl-Anthony Towns. However, during the course of the season, Davis and Towns doesn't have the same impact Green has to his team statistically. In short, Green has the Warriors winning while being all things on both ends of the floor, picking up triple-doubles like apples in the process.
The former Michigan State Spartan leads the league with EIGHT triple-doubles and his stat line (14.7 points, 9.5 rebounds, 7.3 assists, 1.4 steals, and 1.3 blocks) is as excellently diverse as they come.
C: DeMarcus Cousins, Sacramento Kings
It's either Boogie or AD, but WTH, I'll go to the one with a winning record (and a true center).
Cousins has been on a tear lately and is visibly energized by the fact that they are in playoff contention! Over the last 15 days, Sacramento has gone 5-1 with the former Kentucky Wildcat averaging 32.6 points, 13.7 rebounds, 2.7 assists, 1.4 steals, and 0.9 blocks. Expect that to be the norm from hereon out.
UTL: Russell Westbrook, OKC Thunder
It boils down to either Kawhi Leonard or Russell Westbrook, but we just can't ignore the second-best fantasy player so far this season, right? Westbrook still has not developed a deadly three-point shot but his overall numbers are second only to Curry and better than more acclaimed teammate in Kevin Durant.
Westbrook averages 23.9 points, 9.8 assists, and 7.1 rebounds while also leading the league in steals (2.5).
Mandatory Credit: Kyle Terada-USA TODAY Sports