After a busy week of free agency, most of the dust has settled. Amidst the surprise signings and crazy figures, which big free agency names trend up or down in 2016 Fantasy Basketball after signing new contracts? Let's take a look at 10 of them:
1. Kevin Durant joins Golden State Warriors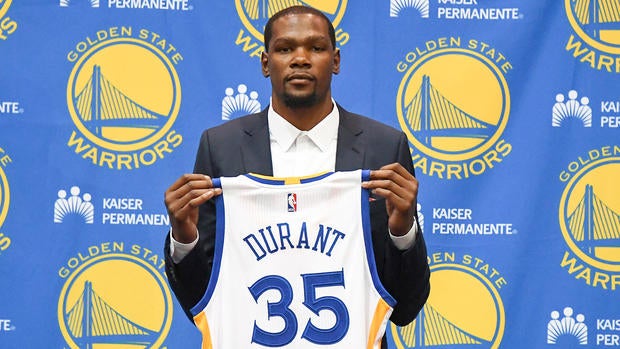 Stock: Down
Perhaps the biggest free agency signing of the year, Kevin Durant decided to join forces with the Splash Brothers and Draymond Green. That's pretty good for KD's championship aspirations but as far as his numbers are concerned, it has nowhere to go but down.
Sharing the floor with high usage guys like Steph Curry and Klay Thompson will certainly cut Durant's own rate, most probably leading to a recession of the majority of his statistics except maybe the percentages. Durant still warrants a look at the middle to the tail end of the first round but he's no longer a top-3 pick at the moment.
2. Dwyane Wade comes home to Chicago
Stock: Down
D-Wade has played with some of the best players in the NBA before and has always been a top-notch contributor. Problem is Wade's age and health concerns, as he has not played a complete season since forever, and is not a very good three-point shooter to begin with (15.9 % last year). The story of a homecoming is interesting and heartwarming, but it hides the fact that D-Wade is no longer the fantasy force he once was.
3. Al Horford to Boston Celtics
Stock: Up
How about a legit All-Star big man going to a team starving for post offense? Only good things could happen given such scenario. The Horford signing almost guarantee the Celtics a second round trip in the playoffs and his fantasy basketball outlook is just as bright. The former Florida Gator could easily surpass the 11.5 FG attempts per game he averaged throughout his career and his newfound three-point shot (34.4 % and 1.1 makes per game last year) is the icing on the cake.
A bottom second round choice? It's possible for Horford to be picked that high given all his production and two-position eligibility.
4. Dwight Howard to Hawks
Stock: Neutral
Howard will simply do what he always does best, grab many rebounds and swat a couple of shot. His FG% will always hover in the high 50's range and he will always be a bad free throw shooter. Same old, same old.
There is hope, however, that D12 might average more points than the 13.7 he averaged last year. In Mike Budenholzer's system, Howard may see plenty of opportunities he did not have in a perimeter-oriented Houston squad. Unless I see it with my own eyes, though, I'd currently put Howard in the neutral list.
5. Pau Gasol signs with Spurs
Stock: Down
Unless you're on the right side of 30 and named LaMarcus Aldridge or Kawhi Leonard, fantasy expectations on a Spurs team that puts a premium in managing minutes is low. Even though Gasol is still basically a fantasy basketball star– 16.5 points, 11.0 rebounds, 4.1 assists and 2.0 blocks per game for the Bulls– there's no reason to believe Gregg Popovich and his staff will exempt the the 36-year-old Spaniard from the Spurs' usual rule.
A slight ray of hope lies on the possible retirement of Tim Duncan but signs and history always point to San Antonio reducing Gasol's minutes as much as possible.
6. Ryan Anderson to Rockets
Stock: Up
A three-point shooting big man, one of the NBA's best at that, is going to play for Mike D'Antoni? From a fantasy perspective, it's a match made in heaven. The Rockets have completely lost interest on Terrence Jones which makes Anderson a ready plug at the power forward spot. With James Harden commanding a lot of attention on offense, the University of California product should see plenty of open looks he has not seen in a while.
7. Harrison Barnes signs Mavs' offer sheet
Stock: Up
If it's on the account of opportunity alone, Barnes' fantasy value spikes up. On a stacked Warriors squad last season, Barnes is good enough for 11.7 points, 4.9 rebounds, and 1.8 assists. The former Tar Heel is largely efficient with his shooting but will an increased role in a Mavs offense, will he be any good? Only time can tell but I'm betting on Barnes having a breakout season now that he is out of the Splash Brothers' All-Star shadows.
8. Mike Conley Remains With Grizzlies
Stock: Up
Conley's new contract, as you may now, is the largest in NBA history. So the pressure is on him now to live up to those big dollars.
The good thing is, the Ohio State product has more weapons now with the arrival of Chandler Parsons and a healthier Marc Gasol along with the ever-solid Zach Randolph. Conley's averages the past two seasons hovers around the 16 points, 6 assists mark, but if I am coach David Fizdale, I'll demand more from the guy offensively with Z-Bo at the back end of his career and Gasol coming from major surgery.
Can he do it? Well, here's to hoping he does.
9. Rajon Rondo to Chicago Bulls
Stock: Down
Rondo is a walking enigma. When he was traded to Dallas midway through the 2014-15 season, everybody thought he was a seamless fit. We know how that turned out.
Once he signed with Sacramento, experts are ready to put the nail on Rondo's coffin but he averaged a league-high 11.7 assists and meshed rather well with DeMarcus Cousins. But even with the former NBA champion dropping dimes like candies, Kings management was not exactly thrilled about bringing him back.
In Chicago, he will be play alongside two ball-dominating wings (Wade and Jimmy Butler) so I'm not sure how Rondo fits with Fred Hoiberg's scheme of things here. He hit a career-high 36.5% from deep last season so maybe he'll break out a newfound commitment to outside shooting.
Who knows? Nobody has really figured the guy out yet.
10. Chandler Parsons to Grizzlies
Stock: Neutral
ESPN's Jim McCormick believes Chandler Parsons' best fantasy years are likely over and I agree. He's going to be a pretty good fourth scorer for the Grizzlies this year and while he doesn't hurt you in any particular category, he does not carry you in one either.
Featured Image: Kim Klement-US PRESSWIRE