OK, I know it's early in the season but we have to do this nonetheless. Some of the guys are playing so poorly we can't blame owners if they have gotten rid of them already. (Hello, Nikola Jokic!) Some, however, are just "beasting" from out of nowhere and some of them are probably available in your leagues you have got to drop someone for these surprise studs.
Stock Up
Joel Embiid, C, Philadelphia 76ers
If there are any questions about how good Joel Embiid is, I reckon all of them are answered by now. Embiid looks every bit like the franchise player Philly needs and more! The Sixers admit "The Process" is still on maintenance plan but I guess he did not get the memo or doesn't respect it AT ALL. He is currently averaging 18 points, 7.3 rebounds, 1.3 assists, 0.6 steals, 2.3 blocks and one three-point shot a game in ONLY 22 minutes an outing! Now that he has got 7 NBA games under his belt, it's only a matter of time before coach Brett Brown decides to give Embiid a full run. If he's available in your league (80% owned in ESPN, 87% in Yahoo), you can do so much worse than adding him to the lineup.
Otto Porter, SF, Washington Wizards
A lot of people slept on Porter (guilty!) and boy did he make 'em pay! The Wizards starting small forward's ADP is at 103.7 but he's been the ninth best small forward in the Player Rater the past 15 days, even better than LeBron James (No.10) and Gordon Hayward (No. 18). Porter is averaging career highs almost across the board (15.2 points, 7.8 rebounds, 1.7 assists, 0.8 blocks, and 55.2% from the field) and is one of the few bright spots on a largely disappointing Wizards team. Porter is still available in over 20% of ESPN's leagues but Yahoo owners are much more vigilant as he is available only at 10% there.
Jrue Holiday, PG, New Orleans Pelicans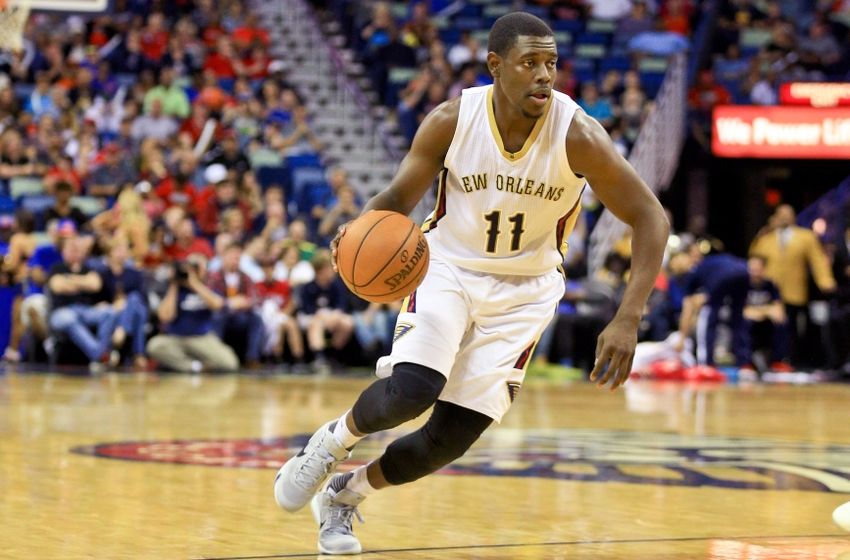 Holiday hasn't played a single minute this season but he'll be back and will likely see a large chunk of minutes once he is available. Last season, Jrue averaged career-highs per 36 minutes in points (21.2) and just about career average on the rest of the categories. Nobody is there to challenge Holiday for minutes (Tim Frazier has been good but the Pelicans only has two wins in 11 games), so he'll probably be back to his All-Star self . Or something close.
T.J. Warren, SF, Phoenix Suns
Much of the spotlight is on Devin Booker (and rightly so) which enabled T.J. Warren to fly under the radar and average 20 points, 5 rebounds, 1.2 assists, and 2.1 steals a game. He is a lot less efficient as he is taking eight more shots this year than the last but that's a small price to pay for such monumental jumps in categories across the board.
Stock Down
Nikola Jokic, PF/C, Denver Nuggets
Nikola Jokic is this year's early poster boy of failed expectations. Jokic is expected to be a top 5 big by year's end but there's no indication he is interested in doing so. He is just averaging 8.5 points, 5.8 rebounds, and 0.2 blocks down from last year and way down from fantasy owners' projections before the season started. If you're in a deeper league, you may want to wait it out a little but if there are options down the waiver wire, nobody's blaming no one if that's where Jokic will end up.
Klay Thompson, SG, Golden State Warriors
Thompson struggled early, shooting 20.8 percent from downtown over the first seven games so that's enough number to warrant a spot on the Down list. That won't be for long, however, as he is now finding his stride from distance. However, there may be owners out there who believes Klay might stay buried behind Steph Curry and Kevin Durant for shots so that's where your buy low opportunity comes.
Pau Gasol, C, San Antonio Spurs
OK, here's where you're going to put your money: Pau Gasol won't be the fantasy stud he was last year as long as he's wearing that Spurs uniform. The same way Tony Parker was thrown into fantasy irrelevance for the past couple of years now, so is Gasol. If you can trade him for the likes of Gorgui Dieng or Greg Monroe, don't blink and pull the trigger.
Joakim Noah, C, New York Knicks
It's good to see Jo play 24 minutes a night but it's brutal to see him be a shell of his former self. Noah is only averaging 4.3 points and 0.7 blocks but the 8.5 rebounds and 3.7 assists are good if you are in need of those commodities. If you're not, Noah belongs to the waiver wire, straight and through.
Featured Image Mandatory Credit: Kyle Terada-USA TODAY Sports