Kobe Bryant will have both of his jerseys (8 and 24) retired tonight at Staples Center, so in honor of the Black Mamba, let's take a look back at EIGHT of his most impressive (but lesser-known) stats he recorded during his historic career.
1. 81
Yep, we know all about the 81-point game– second-highest scoring performance ever. Blah Blah. Here's what most people don't know: That night, he had 2/3 of his team's scoring output (and 36% of both team's scoring output) and that game pushed his average 1.1 points over, which is ridiculous since it came just short of halfway through the season. He also shot a whopping 60.9% that night.
2. 6-of-14
No, that's not a dig on Kobe's supposed inefficiency but in contrast, this is probably the single most amazing stat on this list. Kobe Bryant had 6 of the 14 60-point games in the last 21 years.
LeBron James, Carmelo Anthony, Allen Iverson, Gilbert Arenas, Shaquille O'Neal, Tracy Mcgrady, Devin Booker, and Klay Thompson each had one.
3. Most free throws made in a four-game playoff series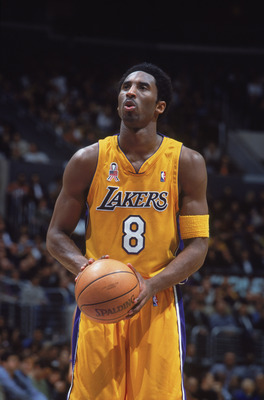 Lakers swept Sacramento in four games and the Mamba made 51 free throws through the duration of the series. He attempted a combined 38 in Games 3 and 4 alone.
4. Lesser accolades
In his career, Kobe won 17 Player of the Month awards, close to the equivalent of two full seasons. He won 33 Player of the Week awards, basically the equivalent of one season. Not that he cares.
5. 30K and 6K
Kobe Bryant is the only player to have scored 30,000 points and accumulate 6,000 assists in the history of the NBA. He will be followed by LeBron James in a month or so in that exclusive list, but still, that's mighty impressive.
P.S. Michael Jordan had 32,000 plus points and "only" 5,633 assists.
6. 16 Categories
Kobe Bryant retired leading the Lakers franchise in 16 categories: games, minutes played, field goals made, field goals attempted, two-point field goals attempted, three-point field goals made, three-point field goals attempted, field goals missed, free throws made, free throws attempted, steals, turnovers, personal fouls, points, usage rate and win shares.
7. 40 Points Against Every Opponent
Kobe can score against anybody and against any team. Proof:
Kobe's highest scoring games vs each team (Reddit) pic.twitter.com/Aow62Lwrou

— NBA RETWEET (@RTNBA) April 11, 2016
P.S. In his career, Michael Jordan did not score 40 against two teams, Toronto and Memphis. LeBron failed to so against the Clippers and the Rockets, though he has plenty of time to catch up.
8. $680 Million
That's the estimated career earnings of Kobe, including bonuses and endorsements. According to Forbes, "the only athletes to earn more are in individual sports and include Tiger Woods, Michael Schumacher, and Floyd Mayweather."
Rick Bowmer / AP