Thirteen games.
A baker's dozen NBA outings on March 4th is titillating to a basketball fan's ears, and more so to a daily fantasy basketball junkie. The comings and goings of people and roster situations/rotations make for some interesting line-up choices and one hell of a fantasy basketball day to look forward to.
March 4 DFS Lineup Advice:
The Studs
Chris Paul, PG ($10,200)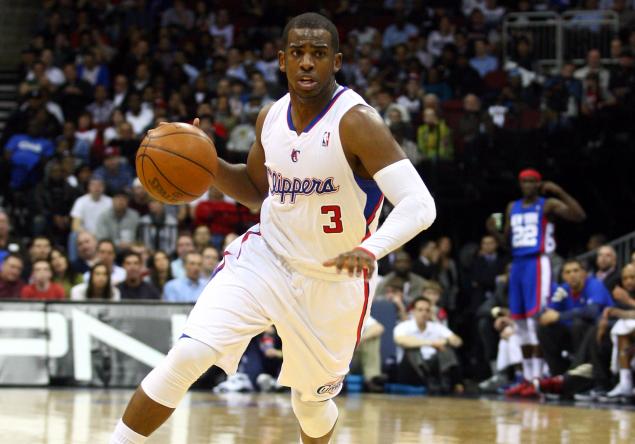 CP3 has been on a tear lately on a Clippers team that has sorely been lacking a consistent offensive punch without Blake Griffin. The Wake Forest product dropped four consecutive double-doubles punctuated by a 60-point fantasy performance at Minnesota.
Paul's squad will host a Blazers team that will be competitive from buzzer to buzzer so chances of a blowout (and rest) is minimal. Expect CP to deliver the usual dose of dimes with healthy scoring, rebounds, and steals.
LeBron James, SF ($10,400)
A LeBron James stinker is as common as a cold day in L.A. As proof, even when limited to 25 minutes in a blowout win versus Boston, "The King" is still good for 45.75 FP by virtue of a 27-point, 3-rebound, 5-assist, 3-steal performance.
With Russell Westbrook potentially in the shelf, LBJ and CP3 is the best bets to give your team a boost on March 4th.
The Middle Prices
Ricky Rubio, PG ($7,800)
The crafty Spaniard is an asset in daily fantasy sites for at least two reasons: One, the point guard position in Minny is his to lose. Second, he doesn't need to score to pile up FP.
Rubio is a threat night in and night out to register a triple-double with some elite steals numbers to come along with it. Sure, he won't give you treys but as long as he's contributing in just about everything else, you can't really be too much of a grumbler about it.
Rudy Gobert, C ($6,700)
A certified glass-eater this guy is.
Gobert led the young Jazz with 24 rebounds in an upset win over the Grizzlies. Yes, even with the presence of Marc Gasol (Zach Rabdolph missed the game), the Frenchman still got his share and more! If he can do that with Marc around, he can do it anywhere else. At below 7000 bucks, Gobert's production (38.8 FP in the last 5 games) is truly a gem.
Nerlens Noel, PF ($6,500)
Nerlens Noel is staking his claim to the ROY by an all-around production that is hard to ignore. He is still rough on the edges as far as his offensive game is concerned, but some gaudy defensive numbers make him an interesting add in daily formats.
Over the last 15 days, the former Kentucky Wildcat registered 8.4 rebounds, 2.4 assists, 1.7 steals, and an insane 3.3 swats, on top of 12.7 points per game. Robert Covington could be held out against OKC so that leaves Noel with a lot of responsibility on his shoulders.
The Replacements
Jeremy Lin, PG ($4,100)
Just when you think you can't get nothing productive out of the former Harvard product, here he is making a case to be in your daily fantasy basketball lineup.
Linsanity has reached the 40-point plateau in two straight games and with his salary, that's an extremely useful production line. He has seen 30 minutes off the bench in three of the last five games, so there's a good chance Lin will ride that hot streak and be your team's X-factor.
Gary Neal, SG ($3,800)
Neal's value hinged directly on the health of Kevin Martin so if K-Mart plays Wednesday, the Maryland-born shooter may lose all his value altogether. Continue to monitor the shooting guard situation in Minnesota and react accordingly.
Roy Hibbert, C ($4,800)
One game does not automatically salvage a poor season for Hibbert but hey, we could start somewhere. The 7-2 center's value is at the lowest now, so maybe you can take a flier on the former All-Star. Against the Sixers, Hibbert recorded a double-double and added five blocks for good measure, making it one his best games in recent memory.
The Pacers will battle the lowly Knicks in Indianapolis so maybe Hibbert can get his game going with two bottom-dwelling opponents in a row.
(All salaries are from DraftKings and is as accurate as of March 4, 2015.)