If you're a Reggie Jackson owner (or the crafty one that immediately snagged him minutes after the trade deadline), what's not to love? If D.J. Augustin managed to come up with numbers good enough to be the seventh-best point guard in fantasy basketball as a starter for the Detroit Pistons, the Boston College product can possibly do a lot more.
The best case scenario would be matching Augustin's numbers in the past 30 days: 18.1 points, 7.0 assists, 2.3 rebounds and almost two treys in only under 32 minutes. In 13 games as a starter, Jackson dropped 20 points, 5 rebounds, and almost 8 assists though doing it in less efficient ways than Augustin. But even remotely approaching those kind of stats is more than enough to give you a boost for the playoffs.
Out in the state of brotherly love, Sam Hinkie went full crazy tank mode (as if it can get any crazier) by trading the only true point guard in their roster: reigning ROY Michael Carter-Williams. It remains to be seen whether MCW can even approach the (inflated) numbers he posted in Philly, but the real issue we have as fantasy owners is who in the current Sixers roster can play point with Carter-Williams and Tony Wroten (injury) out.
It seems to be a toss-up between D-League standout Tim Frazier and the recently-acquired Isaiah Canaan from the Houston Rockets. Hinkie gushed when speaking to the media after the transaction and told everybody he wanted to draft Canaan in the second round of the 2013 draft. He also indicated the organization might be ready to hand the point guard duties over to the Murray State product. If that happens, Canaan will be a must-add in all formats and his minimum salary makes him a very good play in daily fantasy basketball.
After the ultra-crazy NBA trade deadline, point guards all over the league are in definitely in transition. Like they say, it's a point guards league now. There might be some ring of truth to it.
NBA Fantasy Forecaster Week 18: Players to Watch For
Isaiah Thomas
More point guards? Absolutely.
The more underrated acquisition of the NBA trade deadline was the Celtics' nabbing of Isaiah Thomas. The 5-foot-9 point guard (or is it points guard) is capable of heating up in limited minutes and if Marcus Smart doesn't hold up his end, we may be looking at the new starter here.
The Celtics has games with Phoenix (you know what they say about playing against their old teams), New York and Charlotte next week, all favorable matchups for Thomas before a possible shootout with Steph Curry by the week's end.
Deron Williams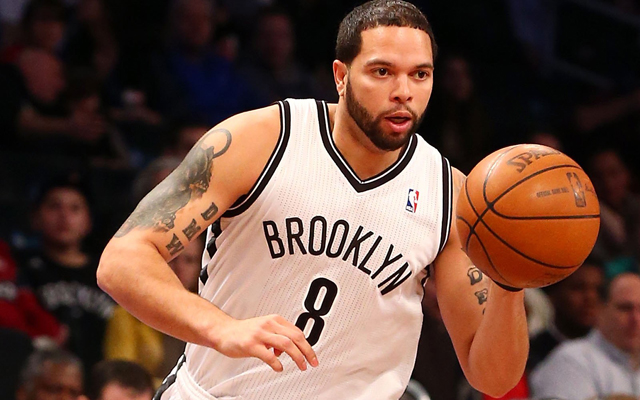 Deron Williams is a major disappointment this season but that doesn't mean he has no right to get back in track. Jarret Jack's slight hamstring issue allowed Williams to run the Nets offense for 40 against the Lakers, and the result was an inspiring performance: 12 points, 15 assists and four boards. Now it may be just an aberration but if Jack misses more time and some impatient owner dumped him along the way, it's time to give D-Will a chance.
Jusuf Nurkic There's a reason why the Denver front office rendered Jusuf Nurkic untouchable in the recent trade negotiations. The Bosnian is essentially averaging 14 points, 13 rebounds, 2 steals, and 3 blocks per 36 minutes. What's currently holding him down is the propensity to commit more fouls than necessary (3.2 fouls in only 18 minutes). Once the 20-year-old big man learn the ropes and stay out of foul trouble, he is going to be a force to be reckoned with and he's been showing glimpses of what he can do with his recent performances. (16 points, 14 rebounds vs OKC and 11 points, 15 rebounds, 3 blocks against Milwaukee.) The Nuggets struck gold by trading for this kid, there's no doubt about that.