A two-game slate is usually very tricky but since it's the playoffs, you'll surely have options to round out your NBA playoffs DFS roster. Here are 6 NBA Playoffs DFS Best Value Picks that you may want to look at this Monday night:
The Studs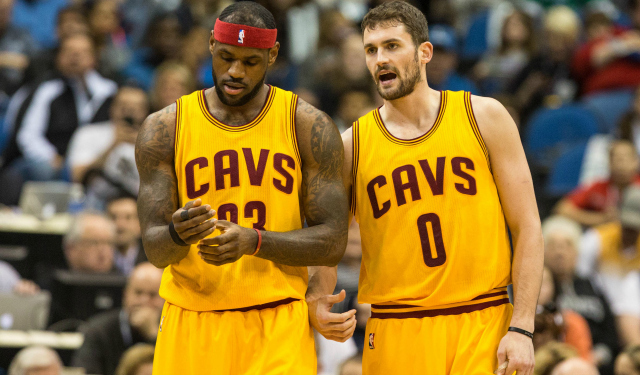 LeBron James, SF, Cleveland Cavaliers ($11,300)
"The King" does not rest during this time of the year and since it's just a two-game slate, the pickings are slim. So why not pick the best of them all while we're at it? LeBron had 32-6-13 in Game 1 along with 3 steals and 2 treys en route to a 66-FP outing. And the scary thing is, he can definitely do better than that and he knows it. James called Game 1 a "feel-out game" and vows to be more prepared the next time around.
Kevin Love, PF, Cleveland Cavaliers ($8,200)
You have many options for the second stud (Kawhi Leonard or Paul George will do) but looking at the overall landscape, Love's salary plays out well into my strategy. (And that is, having a total of four studs in there. Marc Gasol and Mike Conley are the two others.)
If you're looking at the Game 1 stats, however, this could be very risky. K-Love played 31 minutes and grabbed only four rebounds and there's a chance he'll simply replicate what he did in Game 1. But then again, it may only just be a blip on the radar. The Pacers defense leaves much to be desired and the Cavs have always looked to get Love going early.
The Middle Men
Tristan Thompson, C, Cleveland Cavaliers ($4,500)
OK, so you're seeing a pattern now, aren't you? It's no secret the Pacers have one of the worst defenses in the league (and the Cavs have been stumbling on that end as well) so this series will still be a fantasy goldmine despite being in the playoffs.
Thompson had eight points and 13 rebounds en route to 25.25 points in the opener and at that price, that's a definite bargain.
Tony Parker, PG, San Antonio Spurs ($4,200)
TP had a pretty good Game 1 against an elite defense but could he duplicate that 24.5-FP performance the next time around? At that price, I'd like to know.
The Bargains
Lance Stephenson, SF, Indiana Pacers ($4,000)
OH boy! "Born Ready" shouldn't have left.
Stephenson almost picked up where he left off with the Pacers and he showed that level of comfort in the series opener. He contributed 16 points, 7 rebounds, and 3 assists and played 27 minutes in the wing positions. Looks like the production and the minutes ain't going nowhere!
Danny Green, SG, San Antonio Spurs ($3,300)
Green's calling card is defense and three-point sniping but the latter is quite missing right now. He has hit only 1 out of his last 12 attempts but has a steal and a block in 7 of his last 10 games. Despite playing only 20 minutes, DG still dropped 19.75 fantasy points and here's to hoping he'll add some rainbows to that 5-rebound, 4-block performance of his.
Photo:
Note: All stats and salaries are from Draft Kings.