You are probably visiting this page because your last decent pair of basketball shoes have almost no traction left or the outsole have severe wear and tear. We have all been there. I like to max out many of my basketball sneakers until their last breathes until I found a way to make THEM all last longer: Buy two or three pairs of your favorite best cheap basketball shoes and rotate them instead of spending it all on a heavily-priced LeBron 16's or Kobe A.D.'s or numbered Jordans.
The most fun part is there are so many different models to choose from and across name brands– Adidas, Nike, some Jordans, Under Armour, etc. If you're interested in bargain-hunting, check out these 10 best budget basketball shoes all under $100, a little review on each below the table, and where to buy them.
| | | | |
| --- | --- | --- | --- |
| Model | Price Range | Rating | Where To Buy |
| Nike Air Versatile 2 | $75-$95 | 6.5/10 | Buy Now |
| Adidas Pro Spark 2018 Low | $45-$89.99 | 8.5/10 | Buy Now |
| ANTA KT3 Low Playoffs | $94.99 | 9/10 | Buy Now |
| Nike Air Max Infuriate 2 Low | $87.71 | 7/10 | Buy Now |
| Under Armour Men's Jet Mid | $56.99 | 7.5/10 | Buy Now |
| Nike LeBron Witness 2 | $69.01 | 8/10 | Buy Now |
| Nike KD Trey 5 V | $89.95 or less | 8.5/10 | Buy Now |
| Peak Streetball Master | $69 | 8.5/10 | Buy Now |
| Adidas CloudFoam Executor | $80 or less | 7.5/10 | Buy Now |
| Nike Zoom Live II EP | $85 | 8.5/10 | Buy Now |
1.) Nike Air Versatile II
With its price, the Nike Air Versatile II is a marvel to look at. The shoe has a sleek look, lightweight, and has terrific traction. Some even feel that this model was one of the best they ever owned and a number even compare it to the J33s when it comes to court performance (on probably a $100 less or more on the price tag).
However, since it's a budget model, the materials may wear out quickly and sometimes the air units become punctured one way or another so you have to be careful with that as well.
2.) Adidas Pro Spark 2018 Low
If you want a shoe that just performs without hoopla, then look no further than the Adidas Pro Spark Low.
Some compare it to the KD 11s when it comes to comfort and offers as much support as the LeBron 16s. Now aesthetics is another story because it's as simple as any Adidas sneaker you can have but compared to its price, no doubt you'll be getting the biggest bang for the buck you will ever find.
3.) ANTA KT3 Low Playoffs
Another visual stunner that betrays its price, the KT3 is a sneaker wonder that combines technical precision with good looks.
The upper is made of mesh material which makes it ultra breathable and that feeling of freedom. Its traction is also above-average and that lockdown feel in the midfoot offers that protection and stability.
You don't have to take my word for it but some who bought these shoes say it's even better than most of the Nike signatures like the Kyries, Pgs, and KDs. Its translucent rubber may discourage some (not me, though) but when you consider the price, man you should forget everything and just cop it!
4.) Nike Men's Air Max Infuriate 2 Low
Sometimes, the most basic and simplest shoe works awesome and that's exactly the case with the Nike Men's Air Max Infuriate 2 Low.
All the essential boxes are checked– the herringbone traction pattern, heel counter, weight, and the gum outsole– all provide a great experience relative to the price.
Some think it takes a little time to break in because the materials in the upper are kind of stiff but then again, that is a minor drawback for one of the best shoes in that price range.
5.) Under Armour Men's Jet Mid
The whole issue with the shoe is that it runs too narrow and that buyers may have to need a FULL size up to ensure a fit. Other than that, the shoe is pretty solid.
It has a clean and simple look, does not need much time to break in, and lightweight. Many also like that it does not need much force to lift off the ground, are very comfortable even for walking, and that it is stable enough to support vulnerable ankles.
6.) Nike LeBron Witness 2
I have never been much of a LeBron fan so I tend to stay away from all of his overpriced shoes. That is, until I came across this shoe and I have to throw away my bias.
The Nike LeBron Witness 2 works out well for me because it can be used both on the hardcourt and casually. Its diamond traction pattern offers a lot of grip while the textile upper allows air to ventilate. While the grooves of the outsole rubber attract a lot of dust, the overall package is just too perfect to overlook.
7.) Nike KD Trey 5 V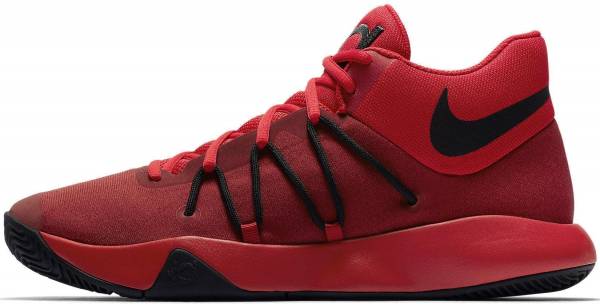 The KD Trey 5 V is considered one of the lightest basketball shoe models out there. It is also generally reviewed to be better for guards because of its zoom unit in the forefoot. It also fits true to size (although some find it long) and is praised for its traction, wherever you may play.
The thick laces on the side of the shoes, the outrigger in the midsole, and the collar's thick padding all provide lockdown, ankle injury protection, and comfort. Yes, it may take a while to break in, but that's about the only flaw you can find in this great budget shoe model.
8.) PEAK Streetball Master
Think of the Streetball Master from PEAK as alchemy that has gone right. I mean, how else can you describe it? It's incredibly durable, has solid cushioning (feels like Bounce), and the traction is above average, all for less than $70!
The shoe is even more beastly when you play it outdoors because it is exactly what it was designed for. When playing indoors, you may have to do some wiping every now and then but other than that, its traction will adapt just fine.
9.) Adidas NEO Men's CloudFoam Executor
To me, the CloudFoam Executor does not exactly fit the "sexy" bill for a basketball shoe, but if it works, I'm all for it.
The pair is just as what its name suggests, feels really light like a foam which helps you execute on the court. Its an epitome of cost-efficiency, comfort, and support rolled into one.
10.) Nike Zoom Live II
The second installment of Nike's Zoom Live is in many ways like the original, which is good.
The pair has a Zoom on its forefoot which offers impact protection, and the entire upper appears to be well-ventilated it will keep your feet dry the entire time you're wearing it. Additionally, the entire shoe is so durable that it barely shows any signs of usage, if at all. Many who have worn the shoe says that the Zoom Live 2 trumps any Nike shoe with the same setup because it will cost you at least 50 bucks less.
What appears to be the drawback is that it runs small and narrow. If you plan to order online, simply go up one size higher and you will solve that problem. As a bonus. it looks just as sick if you decide to wear it casually.
Find out the Best Budget Basketball Sneakers this Year! Our Top Choices for Under $100