The point guard position is the deepest in fantasy basketball but owning the best ones will allow yourself to separate from the pack in many categories. Ideally, a point guard is your lynchpin for assists and steals, gives you a healthy dose of scoring and three-pointers while being a stabilizing force for the FT% category.
But what if your PG also contribute in the rebounding category, possibly even add some defensive stats, and not hurt you because of a poor shooting clip? Well, I'm talking exactly about the persons on this list and if you got either any one of them, I'm pretty sure your fantasy team is in pretty good shape. Here are the 5 best point guards for fantasy basketball:
1.) Steph Curry, Golden State Warriors
Make no mistake about it, Curry is the Warriors' BEST player, no disrespect to Kevin Durant. The two-time MVP will singlehandedly carry teams in 3PM and shooting percentages while acting as a stabilizer in virtually EVERY category maybe except blocks (0.4) and turnovers (3.0).
The only knock on Curry is he will miss his share of games (11 out of a possible 38, so far). Other than that, 28.7 points, 5.2 rebounds, 5.3 assists, 1.4 steals, and 4.9 threes made per game with shooting splits of 49/45/92 is nothing less than stellar.
Here are some highlights and snapshots of Curry's season:
a.) 51 points, 10/10 FTs, and 11 3's made
A game of at least 51 points with 10 FTs and 11 threes made happened only twice in the history of the NBA and Curry had one early this season. The shooting percentages were CRAZY (100% FT, 69% from 3, and 63% overall) and even though he had only three assists this outing, I don't think I can ever think of passing if I were THIS hot!
b.) Most games with at least 6 treys
Curry doesn't have any double-digit assists yet this season but as previously mentioned, he is the league's best shooter bar none. Currently, he leads the NBA in most games with at least 6 three-point shots made (13).
2.) James Harden, Houston Rockets
If you'll take Harden over Curry, you'll hear nothing from me. From a fantasy perspective, Harden and Curry are a coin toss away from each other with the edge on the former in total points, assists, and projected games he will play in. With backcourt mate Chris Paul nursing some injuries, Harden's value has never been higher and he has answered the call. The Beard is currently averaging career-highs in points (33.3), steals (2.1) three-pointers made (4.6), and free throws made and attempts (9.4/11.1).
Harden, however, has his drawbacks. He turns the ball over a lot (5.5) and sometimes falls in love with deep shots (11.9 attempts from deep). But then again, he is currently ranked third best overall player in fantasy basketball by Yahoo, so I'll take the good along with the bad in his case.
Here are some highlights and snapshots of Harden's season: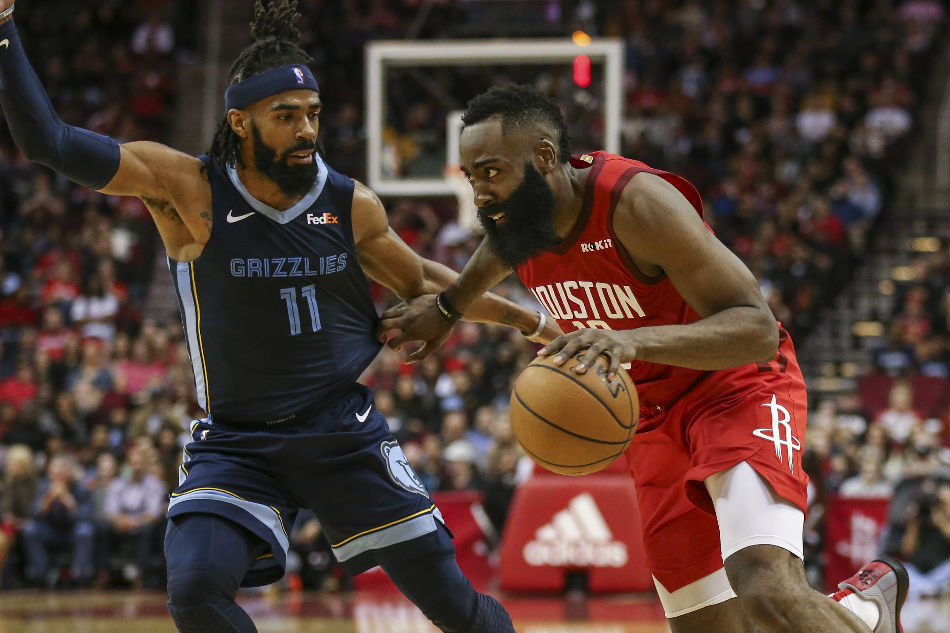 a.) Most 40-point triple-doubles
The Beard has two of three 40-point triple-double performances of the season, doing it against the Lakers and Memphis, both in the month of December. And did I say he scored 50 on LeBron and Co. in one of these games?
b.) Most FTA in a game
Harden's contact-seeking ways are frustrating for opposing defenses but that's music to the ears of anyone who has him for their fantasy team. In the triple-double outing versus the Grizzlies last Dec. 31, Harden had himself a little party at the free throw line by getting there 27 times and converting 21. He also had 10 games in which he attempted at least 15 free throws, unsurprisingly the most by any player this season.
c.) The ONLY 25-11-17 and 6-steal game
This one is a little overlooked because it ended in a loss to Dallas but 25-11-17 and SIX steals? Come on, man. That's just ridiculous. And for good measure, nobody has ever done this in NBA history. Not Jordan, Oscar, Wilt, Magic, or Larry. Only James Harden. Let that sink in for a moment.
3.) Kyrie Irving, Boston Celtics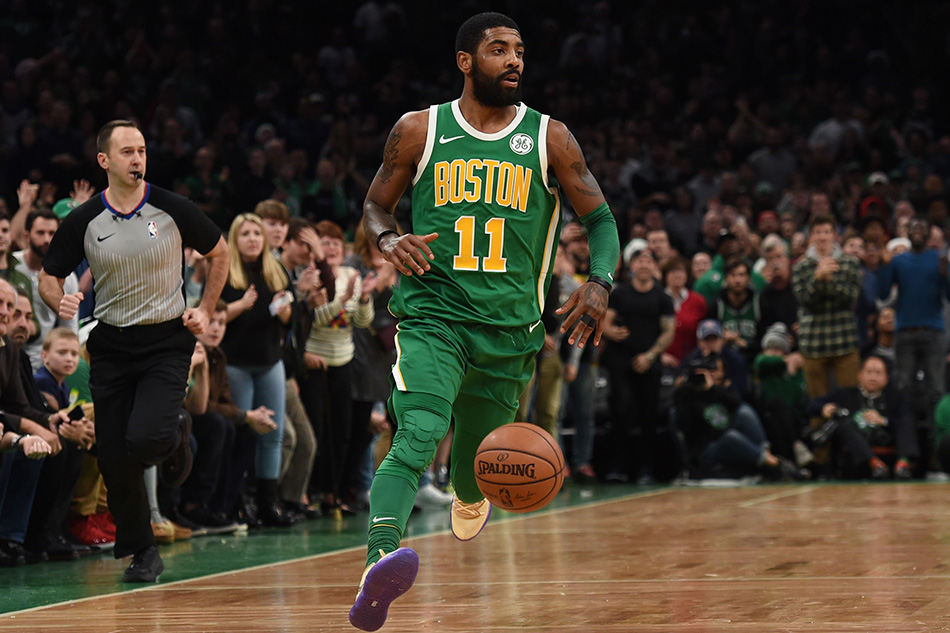 Kyrie Irving's game will always be predicated in scoring but this season, there seems to be an emphasis on improving the other areas of his game. Irving is averaging career highs in multiple categories including assists (6.6), rebounds (4.9), and steals (1.6) on top of 23.1 points on 49% shooting (41% from three) clip and 85% from the line.
Irving missed at least 10 games in each of the past 3 seasons but has only been shelved 3 times this year. That's a big reason why he is currently No. 8 in Yahoo's fantasy basketball rankings and the third best PG out there.
Here are some highlights and snapshots of Irving's season:
a.) The ONLY 26-5-10 and 5-steal game this season
A testament to his commitment for a better all-around game, Irving showed New Orleans who's boss on the night of Nov. 26. For good measure, Uncle Drew drained five shots from beyond the arc in 10 attempts.
b.) One of FIVE games this season with at least 39 points, 7 rebounds, 6 assists, and 3 steals.
James Harden had three of this (and counting) but Kyrie also had one on his bag. He also made six threes and drained all 7 of his free throws on this game against Phoenix last Nov. 8.
4.) Damian Lillard, Portland Trail Blazers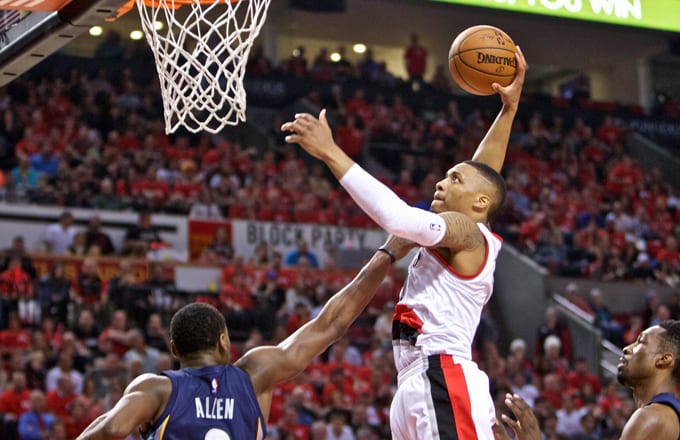 Dame has been one of the best point guards in fantasy for a few seasons now. He is consistent and is a no-brainer first-round value because of his scoring (26.7 points), rebounding (4.8), assists (5.8), and three-point shooting (3.1 makes). At least one area makes you wish he can do more (0.9 steals) but his efficiency (45% shooting and only 2.7 TOs) makes up for it. That said, we have seen this statistical greatness before from Lillard and at 28 years old, I don't know if we can see breakthroughs across multiple categories from him anymore.
Here are some highlights and snapshots of Lillard's season: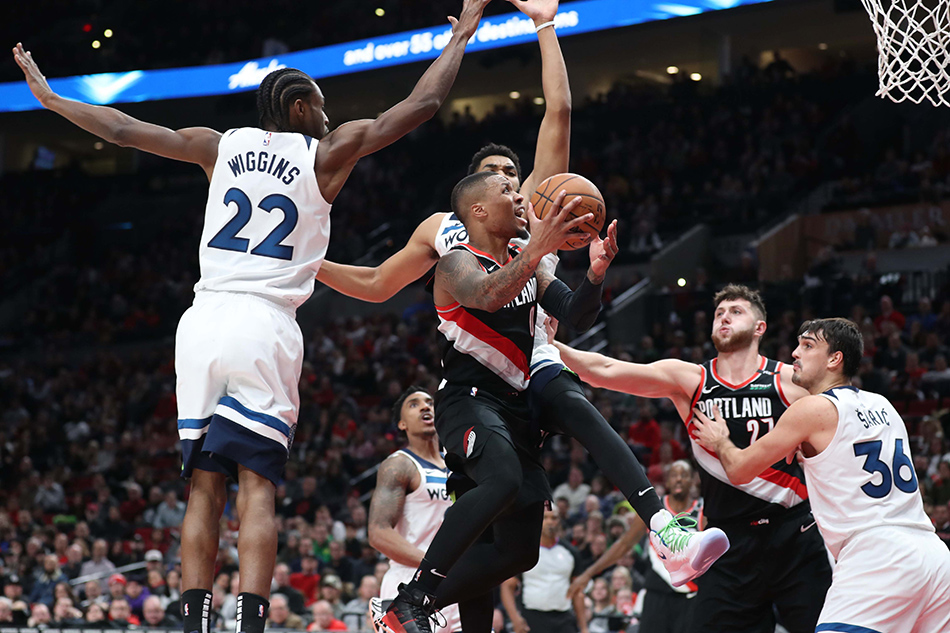 a.) The ONLY 42-point, 8-rebound, and 10-3PM game this season.
Dame got really hot on this one and churned out quite a unique game with 42 points, eight rebounds, and 10 threes made. He also added 4 assists, 2 steals, and a block for good measure.
b.) Had two of the nine games with at least 40 points, 7 rebounds, 6 assists, and 5 made threes.
Exactly 5 other players did similar lines this season (James Harden, Steph Curry, LeBron James, Blake Griffin, and Paul George) but what's special about what Lillard did is he pulled this off in two consecutive games.
5.) Kemba Walker, Charlotte Hornets
You can't be a top-tier point guard in this league if you can't score and putting the ball in the hole is definitely a strong suit of Kemba's. He was a fixture in the second and third rounds in the years past but he has quietly hovering as a first-round value through 37 games. Averaging career-highs in points (25.4), three-point makes (3.3), FG% (44.1%) on top of 4.3 rebounds, six assists, 1.3 steals, and 0.5 blocks, Walker is undoubtedly a high-quality point guard to build fantasy teams around.
Here are some highlights and snapshots of Walker's season:
a.) The ONLY 60-point game of the season
This is when Walker announced he is legit It ultimately resulted in a loss but Kemba put the league on notice with the 60-point explosion along with 7 rebounds, 4 assists, 4 steals, and 6 3PM while making all 12 of his free throws.
b.) 4 games of at least 41 points
That is tied for the second-most games with at least 41 points by a guard this season, only second to James Harden (nine times).
On The Outside Looking In
As I said, the point guard position is the deepest in fantasy basketball. You can go four or five rounds and can still draft a point guard of high value (though I don't recommend waiting that long). Aside from these five studs, here are other point guards who may make a jump in the rankings soon.
Russell Westbrook, OKC Thunder— How about averaging a triple-double for a third consecutive season? Russ is on pace to do just that (20.7 points, 10.9 rebounds, 10.1 assists plus a career-high 2.7 steals) but how come he is not in the top 5? If you're averaging 5 turnovers and 41% from the field (including 24% from 3), that will weigh heavily on the rankings. Still, Westbrook is a beast on daily fantasy and points leagues but spotty 3-for-20 and 4-for-22 nights will do you in on roto leagues.
Jrue Holiday, New Orleans Pelicans— Hovering at early second-round value, Holiday is averaging career-highs in points (20.9), rebounds (4.5), assists (8.5), steals (1.6), and three-point makes (1.6).
Mike Conley, Memphis Grizzlies– Aside from the 0-point dud his last outing, Conley has been returning early third-round value so far with averages of 20 points, 3.5 rebounds, 6.3 assists, 1.3 steals, and over a couple of three-point makes. His FG% is 3 percentage points lower than his career number but he turns the ball over only 1.8 times, balancing things out.
Kyle Lowry, Toronto Raptors– If not for nine missed games, Lowry would be at worst a second-round value for the season. He is only averaging 14.4 points and 4.5 rebounds but his 9.8 assists are a career-high with solid steals (1.4), blocks (0.5), and 3PM (2.1).
De'Aaron Fox, Sacramento Kings– At barely 21 years old, Fox is just scratching the surface of his potential and in a couple of years, he will be among the top point guards in the league statistically. He is averaging 18.1 points, 3.6 rebounds, 7.5 assists, 1.7 steals, 0.6 blocks, and 1.2 treys a game.
Featured Image:
Cary Edmondson-USA TODAY Sports
5 best point guards for fantasy basketball