Traditionally speaking, shooting guard is the shallowest position in fantasy basketball. Since point guards like Steph Curry, James Harden, and Kyrie Irving do have SG eligibility in fantasy, it makes the position pool look deeper than it actually is.
In this list – 5 Best Shooting Guards For Fantasy Basketball – however, I won't include the aforementioned names (because they really are point guards who can simply score) and concentrate on players who played the SG position for the majority of their NBA careers. As previously mentioned, the shooting guard rankings are top-heavy and you will probably see the best of them here in this list.
1.) Bradley Beal, Washington Wizards
Beal may be the only one who has single-position eligibility on this list and that should be a factor in his ranking as a top shooting guard. The former Florida Gator is averaging career-highs in points (23.9), rebounds (4.9), assists (4.8), blocks (0.8), and FT attempts (4.7). He has done so mainly because of the absence of John Wall, who is now sidelined for the rest of the season. Beal is currently sitting at a mid-second round value and may improve his stock as the Wizards' main guy going forward.
Like most shooting guards, Beal's best asset is scoring but his three-point shooting percentage actually regressed. He is only shooting at a hair above 34% from distance, the lowest of his career. Beal, however, improved on 2-point conversions, balancing out his FG% at a very respectable 46.8%.
Beal's best statistical games of the season:
a.) The ONLY 40-11-15 game of the year
Yep, that's right. Beal was responsible for the only game with at least 40 points, 11 rebounds, and 15 assists. Not James Harden nor Anthony Davis, but Bradley Beal. Only seven of such games happened in the history of the NBA with Harden doing it last Dec. 31, 2016, before Beal did last Dec. 22, 2018.
b.) One of 5 players to have at least 25 points, 8 rebounds, 7 assists, and 5 three-pointers made in a game
You may think it's not much but a performance of that nature happened only eight times this season and Bradley Beal had one of those. Harden (three times), LeBron James, Steph Curry (twice), and Victor Oladipo had the other seven.
2.) Victor Oladipo, Indiana Pacers
Speaking of Victor Oladipo, the guy is churning out early third round value in standard 9-cat leagues with the potential of doing much more. He is still not at his best after missing 11 games but recently enjoyed a productive stretch.
For the season, Oladipo is good for 20.2 points, 6.3 rebounds, 5.4 assists, 1.8 steals, and 0.4 blocks while shooting only 43% from the floor. His efficiency is not there yet but barring any setback, he will get there in no time. The missed games will also hurt but as long as it does not threaten his availability for the season, Oladipo is still a high-quality shooting guard to build your team around.
Oladipo's best statistical games of the season:
a.) One of 5 players to have at least 25 points, 8 rebounds, 7 assists, and 5 three-pointers made in a game
See Beal, Bradley.
b.) The ONLY game this season with at least 26 points, 8 rebounds, 7 assists, and 5 steals.
The last one to do that before Oladipo was LeBron on Jan. 6, 2018.
c.) One of two players to register at least 36 points, six rebounds, seven assists, and three blocks.
Again, LeBron accompanies Oladipo on this list but if we consider Vic's additional two steals, then he is in a category of his own.
3.) DeMar DeRozan, San Antonio Spurs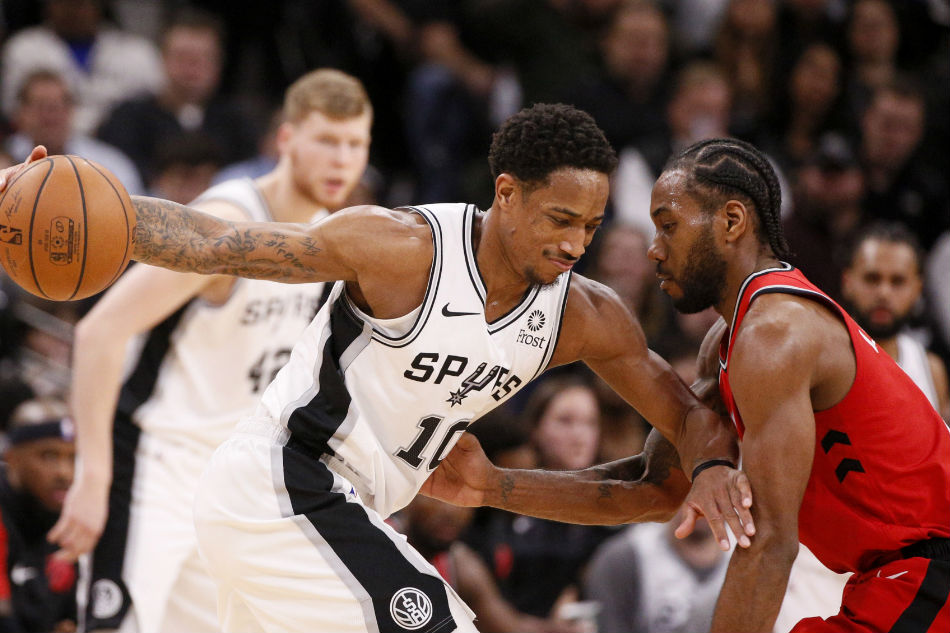 A shooting guard who doesn't shoot threes? That sounds outdated but this season, DeRozan has found ways to carry the team other than scoring. He is averaging career-highs in rebounds (6.2) and assists (6.4) on top of 22.6 points, one steal, and 0.5 blocks while shooting at a 47% clip.
As previously mentioned, he rarely makes and attempts three-pointers (17% shooting on 1 attempt) so if you have DeRozan on your fantasy team, pairing him with three-point shooting big man or a specialist is a course you should consider heavily.
Even with the lack of three-point shooting, DeRozan still posts early to mid third round value because of his brilliant all-around play.
DeRozan's best statistical games of the season:
a.) Recorded his first career triple-double
A lot of emotion on this game with DeRozan's former team the Raptors visiting San Antonio and he came through. He dropped 21 points, 14 rebounds, 11 assists, and 2 steals for the big win. Of course, he did not attempt a three-pointer and hasn't shot one in the last three games.
b.) 5 games with at least 30 points, 7 rebounds, and 5 assists
That's the second-most by any guard this season after James Harden, and Russell Westbrook and tied with Steph Curry. Fun fact: 3 of those games are against the Lakers
c.) Most 30-point games without a 3-point make this season
I mean, it's definitely not good for your roto team but that's impressive nonetheless. DeRozan had six games this season with at least 30 points but 0 3PM making him the runaway leader in that category. Westbrook had two of such games this season and CJ McCollum with one.
4.) Klay Thompson, Golden State Warriors
Like his Splash Brother Steph, Klay can singlehandedly carry a team in the 3PM category. He still hasn't shot the three-ball well enough by his standards (2.6 makes out of 7.3 attempts for 35%) but Thompson had 15 makes over the last 5 games on 32 attempts. Additionally, Thompson is averaging 4.2 rebounds, 2.1 assists, 1.2 steals, and 0.7 blocks, easily making him a mid-to-late third round value in standard leagues.
Still, Thompson's free-throw rate can further be improved (only 2.6 attempts in 35 minutes) and his FG% is his worst in 5 years. Overall, though, Thompson's stock is trending upwards after a painfully slow start to the season. Nothing spectacular when it comes Thompson's production (except for the scoring and 3-point shooting) but his sporadic contribution especially in steals and blocks still make him a valuable commodity.
Thompson's best statistical game of the season: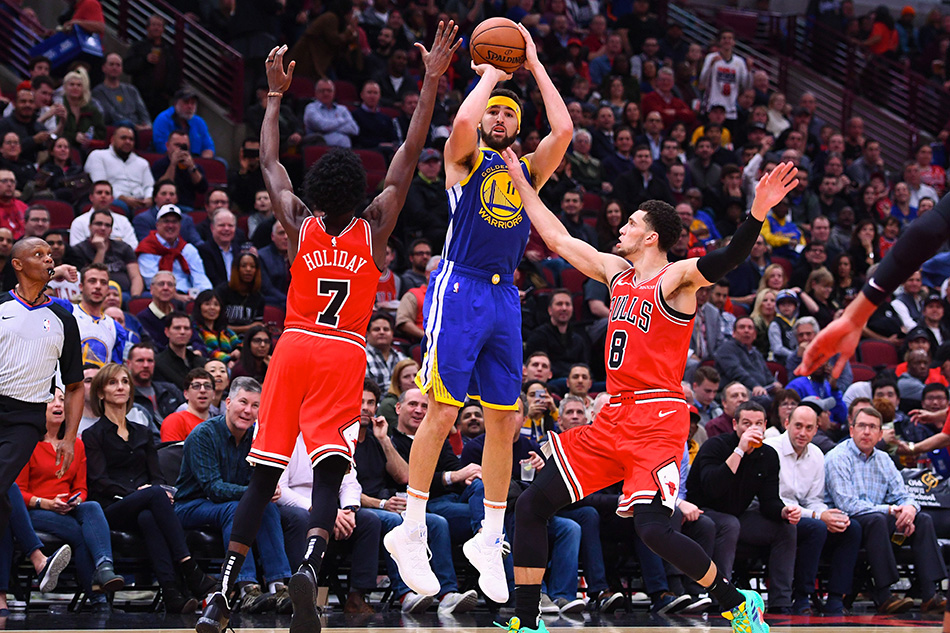 a.) 52 points with an NBA-record 14 three-pointers made
Making that ball go through the hope is easy for Thompson and he showed everyone why when he made an NBA record 14 threes en route to scoring 52 points. The previous benchmark was recorded by fellow Splash Brother Curry with 13.
5.) Devin Booker, Phoenix Suns
At 22 years old, Booker's potential is through the roof but injuries have delayed that flight. The former Kentucky Wildcat has now missed 10 games and possibly more after an apparent back injury against Charlotte but if he's healthy, there's no denying the production. He is averaging a career-high 25.4 points and 7.1 assists, along with 3.8 rebounds and 1.1 steals.
Booker's best statistical game of the season:
a.) One of THREE players who had at least 38 points, nine rebounds, three steals, and four 3PM
Booker went off on this game against Boston and became one of only three players with that stat line. The others were James Harden and John Wall.
b.) One of 13 games with at least 37 points and 17 FTA
Booker is one of the best at getting to the line and he showed why on this game against Philadelphia as he tallied 17 FT attempts en route to 37 points.
Featured Image: Kelley L Cox-USA TODAY Sports
5 Best Shooting Guards For Fantasy Basketball