Many questions loom in the horizon in possibly one of the most exciting NBA seasons in recent memory. As fantasy players, though, we only have one thing in mind: Who's going to make the most of their opportunity and turn it up after the All-Star break? Here are 5 guys that will potentially do it:
1.) Jonathan Isaac, SF/PF, Orlando Magic
I am not a patient guy so I lament this one but kudos to the owners who stuck with the lanky forward through thick and thin. Isaac looks like he has turned a corner becoming a top-150 player who you may cut for a hot free agent to essentially the fifth-best SF-eligible guy behind PG, Giannis, Jimmy Buckets, and Klay Thompson.
How did he do that? He averaged 14.7 points, 6.3 rebounds, 1.3 steals, 2.7 blocks, and 1.7 treys on 49% shooting from the field and 94% from the line over the past two weeks of action. Coincidentally, the Magic has won 5 straight and 7 out of 10 overall. All signs point to the obvious: The guy is ready.
2.) Mitchell Robinson, C, New York Knicks
Robinson may be just a blocks specialist at first, but he has been showing progress in his overall game. He has dropped 5 straight double-digit scoring outings with two double-doubles during that span. He may have gotten a third if the Atlanta game did not go out of hand in favor of the Knicks but he did steal swat four shots on top of six points and seven rebounds.
There really is no point in trying to play DeAndre Jordan more minutes down the stretch so we see Robinson handle as much big man responsibilities as he could. By the way, Robinson is putting early third-round value in the past 14 days.
3.) Marvin Bagley III, PF, Sacramento Kings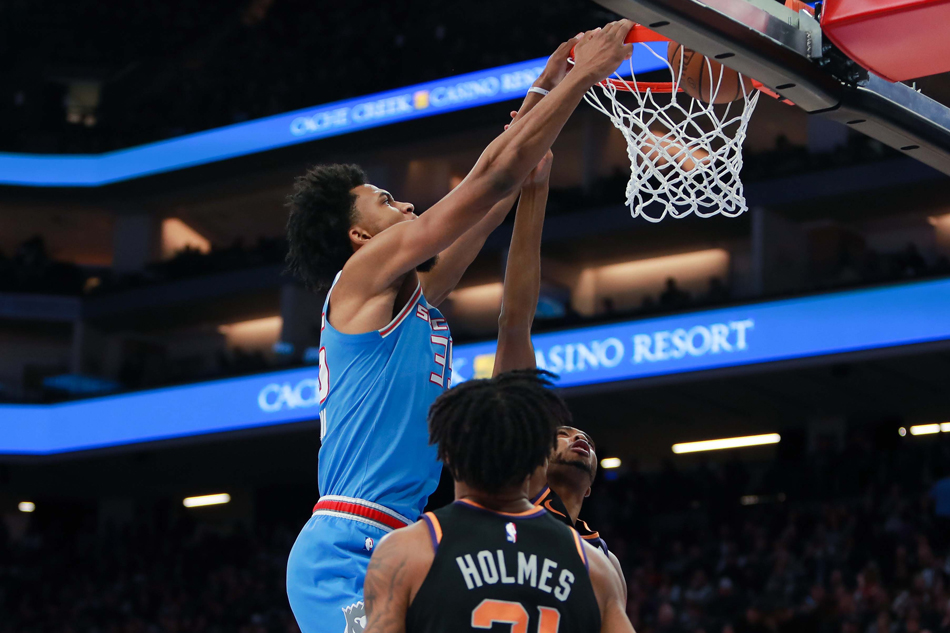 MBIII is not the defensive stats monster like Isaac and Robinson, but boy can he score and rebound. He recently had a stretch of four straight double-doubles and had a career-high 32 points against Phoenix last Feb. 11. He is still coming off the bench behind Nemanja Bjelica but he has averaged more minutes in the past 7 games. If somebody left him on the wire, make them pay.
4.) Gordon Hayward, SG/SF, Boston Celtics
Hayward is too good and too smart to be kept caged by his horrible experience last year and it is beginning to show. The former All-Star accumulated averages of 21 points, 4.7 rebounds, 4.7 assists, a steal, and three treys a game over his past three. That's probably the best three-game stretch Hayward had over the season and I think that should carry over after the break.
5.) Dario Saric, PF, Minnesota Timberwolves
Wolves head coach Ryan Saunders finally started Saric ahead of Gibson to the relief of waiver wire opportunists and patient owners. The Croatian turned out top-22 value in the past seven days with averages of 17 points, 8 rebounds, 1.5 assists, 1.5 steals, and 3 treys on 65% shooting from the floor. It looks like this job is his to lose and so far, he's doing a phenomenal job.
Featured Image: Christopher Evans/Boston Herald