Fantasy players thirst for one thing and that is numbers. While we like to be amazed at the sheer statistical volume and diversity the elite ballers consistently flash, how about satisfying your hunger with the downright peculiar stuff?
Let's get right to the weirdest stats of this season.
(Note: All statistics are accurate as of November 27, 2014)
Shaun Livingston
The former No.4 overall pick may never accrue fantasy relevance in a Warriors' backcourt rotation dominated by the Spash Brothers but this season he is the owner of two strange stats rolled into one: Most minutes played by a point guard without making AND attempting a three-pointer.
Livingston, so far, played 14 games and logged a total of 219 minutes of floor time with no apparent interest of hoisting from deep. Right behind him is the 597-year-old Andre Miller, though 'Dre attempted one rainbow shot in 176 minutes of playing time.
Tony Parker
At 32 years of age, Tony Parker is a four-time champion with one Finals MVP (2007) to boot. He is known as one of the cat-quickest players in the NBA and can get to the lane and finish at will. This season, however, the Frenchman is on pace to set a new all-time record for 3-point FG percentage!
Yep, that's right.
Parker connected on 15 of his 23 trifecta attempts good for 65.2%. The all-time record was set by Kyle Korver by the end of the 09-10 season at 53.2% so it's interesting to see if Triple Tony can keep this astounding shooting up. It's obvious opponents would rather see him shoot from afar rather than attack the lane but Parker is maximizing his treysville attempts by cranking in the corner almost 70% of the time.
Rajon Rondo
The description "pass-first" point guard is tossed around a little too much and is often meant to praise the best playmakers at the 1-position. While many guards are elite passers, the "pass-first" label couldn't more appropriate in defining Rajon Rondo's game.
Rondo actually has more assists (118) than attempted field goals (102) which he has done twice before (2010-11, 2011-12). The injured Ricky Rubio is his closest peer with 50 assists and 47 field goal attempts.
Mike Miller
Mike Miller is one of the most oft-injured players around so I kinda understand his predicament. He currently leads in the league in most minutes played without even attempting a single free-throw. The 2x NBA champion has hit the floor 129 minutes this season but couldn't draw enough contact to merit a single free throw attempt.
One look at Miller's stats explains it all: 15 of his 18 field goal attempts were from outside the arc. So unless he faces Wesley Johnson every time, there's no way he's going to get fouled out there, at least for now.
Serge Ibaka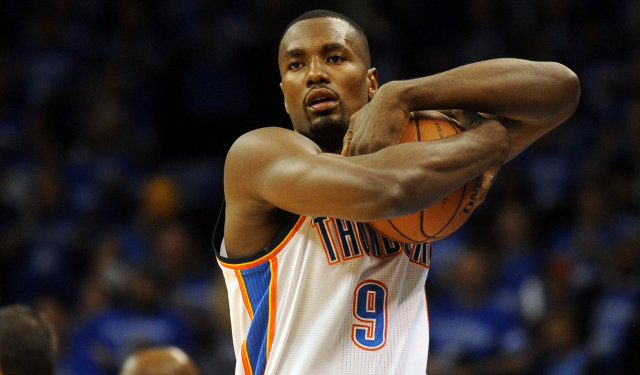 Given the Thunder's lack of perceived offensive weapons due to Russell Westbrook's and Kevin Durant's absence, Serge Ibaka took matter into his own hands. The 25-year-old Congo native currently made 25 three-pointers on 66 attempts, good for 50th in the league in percentage. In terms of makes, however, Ibaka is second among all center-eligible players only behind noted big man gunner Channing Frye (32 makes). To put that in perspective, Phoenix Suns' guard Isaiah Thomas and Memphis Grizzlies' point man Mike Conley both had 22 makes this season.
If he keeps this pace up, Ibaka will have around 125 3-pt field goals by the end of the season, almost three times his makes in the previous five years combined.
Nikola Pekovic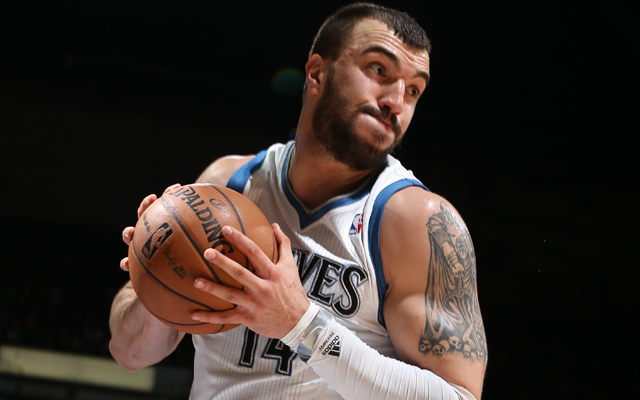 A center who doesn't block shots– which is exactly what Nikola Pekovic is– is trash in fantasy terms. A closer look at his stats reveals he's no better in reality, either.
Pekovic leads all centers in blocks differential, which basically means he doesn't block shots on one end and gets his own shot stuffed a lot on the offensive side, too! Pek had his shots blocked 16 out of 90 attempts at 17.8 percent while he only accumulated 2 swats in 240 minutes of playing time.
OMG!
Dirk Nowitzki and LaMarcus Aldridge
Put the ball in these two power forwards hands and chances are, something good is going to happen. Aldridge has a 27.5% usage rate but turns the ball over at an insanely low amount, averaging only one TO in almost 35 minutes of play. Nowitzki plays almost seven minutes less and averages less than 1 TO a game– still very outstanding given his usage rate of 26.9%.