I have always found myself rooting for the underdog.
Ever since I was 7, when I decided to watch hoops rather than X-Men or Power Rangers, my heart was with the underrated ones. Of course, I didn't mean I cheered for the worst team, but my favorite player is not always the best one.
While everybody goes all crazy for the high-flying, acrobatic antics that Michael Jordan always displayed, I applauded the Hersey Hawkins, the Jeff Hornaceks, the Antoine Carrs, and the Rex Chapmans of the world.
Every one was in awe of Shaquille O'Neal and Kobe Bryant during their three-peat era but I was with the Raja Bell's, the Jalen Rose's, and the Kenyon Martin's. And while I came to like the purple and gold in recent years, it was not because of the Mamba but it was the multi-faceted Lamar Odom that intrigued me.
So, to nobody's surprise, I'm compiling a list of the most underrated NBA players at each position with a look at their reality and fantasy impact.
Point Guard: Mike Conley, Memphis Grizzlies
It's no coincidence the Grizzlies have improved ever since the front office drafted Mike Conley fourth overall in the '07 draft. He has brought Memphis to their only Western Conference Finals appearance in 2013 but hasn't received even one drop of recognition for doing so– at least, from the casual fans.
Maybe it's his amicable personality (2014 Sportsmanship Awardee) or the fact that he's not flashy, but the truth is, he can play with the best of them. The Grizzlies 10-2 start should be turning some heads now, and hopefully be enough to land the former Ohio State Buckeye to his first All-Star team.
Fantasy impact: Conley is not usually the first guard you would draft in the first three rounds but he is the perfect second PG on a fantasy team. He does everything well but is not eye-popping in any category, but nonetheless, would not hurt you in any department, either.
Stats as of Nov. 20: 16.9 PPG, 6.0 APG, 1.5 SPG, 1.5 3-pointers made
Shooting Guard: Klay Thompson, Golden State Warriors
The son of former Laker great Mychal Thompson, Klay may have overshadowed his dad as far as NBA relevance is concerned. But why is he underrated even though everybody thinks he's so good?
Ric Bucher made his point on this one and I couldn't help but echo his sentiment: The fact that he's rated behind James Harden as the best shooting guard in the league is preposterous! He is the best two-way player in his position right now and arguably the best shooter, too. So why would he be trailing Harden whose interest on defense is like that of a Muslim in front of a pork dish?
To conclusively cement Thompson's imprint going beyond shooting 3-pointers, how about sitting at the top 4 in defensive rating in the whole league, even ahead of one guy you might now– Dwight Howard?
Fantasy impact: On average, Thompson was drafted in the early fourth round but the way he's ballin' right now, his per game averages across the board is good for number 12 in the Player Rater. Houston's Bearded One may have a bigger impact fantasy-wise because he is basically the Rockets' only legit perimeter playmaker but if you're looking for pure scoring and lift from distance, Thompson is not far behind.
But still, as good as Klay is in fantasy terms, his influence on the team in reality cannot be quantified.
Stats as of Nov. 20: 23.6 PPG, 3.2 RPG, 3.3 APG, 1.2 SPG, 3.1 3PM
Small Forward: Tobias Harris, Orlando Magic
While everybody was looking at the Midwest's new powerhouse in Ohio, Southeast division's Orlando Magic has quietly climbed up the ranks, many thanks to this one guy nobody was talking about. No one was anticipating Harris to break out by this much (maybe well, except me) and that explains his 10th round ADP (99th). Obviously, many fantasy-heads still go for the flashier names.
Fantasy impact: Number 13 in the Rater for someone drafted, on average, at the bottom end of the 10th round? Are you kidding me?
Stats as of Nov. 20: 18.4 PPG, 8.2 RPG, 1.2 APG, 1.3 SPG, 0.7 BPG , 1.0 3PM
Power Forward: Amir Johnson, Toronto Raptors If the NBA is more about advanced stats than traditional boxscores, this guy right here would be a first-team All-Star.
In the 2013-14 season, Amir Johnson was ranked ninth in the league in +/- rating for anyone that played at least 25.8 minutes per. Seven out of the eight in front of him were All-Stars (in the traditional sense) but his Usage Rate was not even among the top 100!
Simply put, the Raptors is a lot better team when Johnson is on the floor (at both ends) when he is off it. He will help the team score more points and anchor the defense to limit the other squad.
But nobody cares–except for Dwayne Casey. Hell, even Johnson himseld doesn't pay no attention.
Fantasy impact: Again, if this is traditional fantasy stats we're talking about, the Los Angeles native wouldn't even get a sniff of my team. He is, however, a solid deep-league option with dual eligibility at the power spots.
Stats as of Nov. 20: 9.9 PPG, 5.0 RPG, 1.3 BPG
Center: Nikola Vucevic, Orlando Magic
No casual fan knows the name Nikola Vucevic but to us ardent followers of the sport, he is a beauty to behold– and I didn't mean, physically.
The former USC Trojan out of Montenegro is a highly-skilled big who knows how to execute drop steps, up-and-unders, mid-range J's, the whole shebang! He battles every single time underneath the basket, sets good screens, and even adept at finding open teammates. With some seasoning and the right attitude, Vucevic is a future All-Star and that will be the day I will get him out of this list. For now, just settle in, big fella.
But boy, the Magic's future is brighter than the Centauri right now.
Fantasy impact: The BEST center in fantasy basketball right now outside of Anthony Davis and DeMarcus Cousins. Arguably, he's even better than Cousins, if you pay attention to what the Player Rater says. It's only a slight advantage and Boogie may keep up (they are 6 and 7 right now), but Vucevic is a fantasy stud with first-round numbers that got drafted somewhere in the middle of the fifth round.
Stats as of Nov. 20: 18.8 PPG, 11.8 RPG, 2.7 APG, 0.8 SPG, 1.2 BPG
Sixth Man: Jimmy Butler, SG/SF Chicago Bulls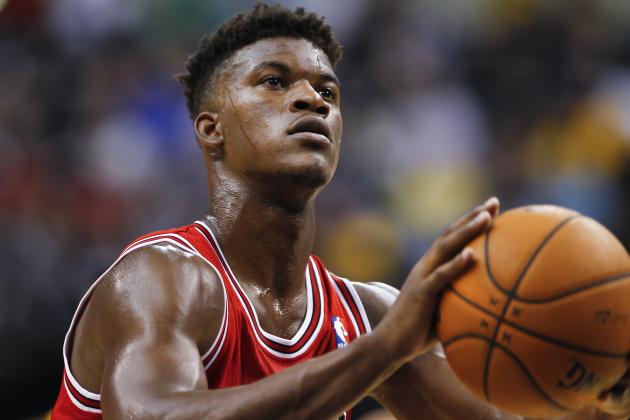 If everybody's talking about the the return of an oft-injured teammate and the acquisition of a slightly over-the-hill Spaniard but overlook your 21.3- 6.2- 3.9- 1.4 stat line with over 50% and 80% shooting from the field and the line, respectively, you have got to be in here.